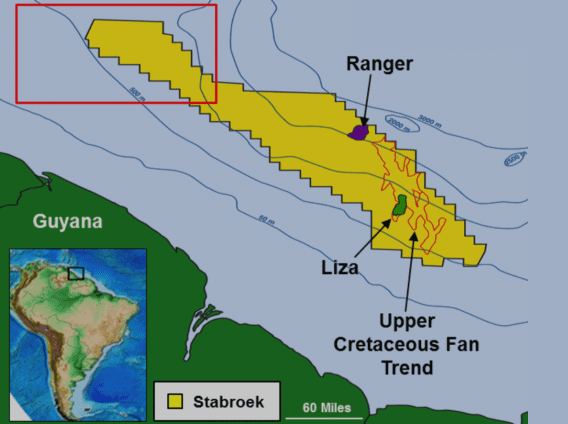 The successful foray by ExxonMobil into the Ranger-1 reservoir offshore Guyana saw the deepest drilling exercise to date some 60 miles north west of the prolific Liza field. The company announced on Friday its 6th discovery at Ranger-1 which is a new play in the 6.6 million acre Stabroek Block.
Kimberly Brasington, ExxonMobil's Senior Director, Public and Government Affairs in Guyana told OilNOW following the announcement of the new discovery on Friday that Ranger-1 is particularly exciting because it is located in an area with different geology when compared to Liza, Payara, Snoek and Turbot.
Approximately 230 feet (70 meters) of high-quality, oil-bearing carbonate reservoir was encountered at Ranger-1. The well was safely drilled to 21,161 feet (6,450 meters) depth in 8,973 feet (2,735 meters) of water; a total of 30,134 feet (9,185 meters).
"This is the deepest so far and that's actually a point worth expanding on; is that Ranger is a different type of play for ExxonMobil in the Stabroek Block. The other five announced discoveries have all been in the same area in similar plays; they're sandstone, it's a tighter rock. Ranger is actually sixty miles north west from Liza and where the other discoveries are…," she said.
Describing the geology at Ranger-1, she said, "It's what we call carbonate play which is more porous…this is an actual reef and so by nature it is a different look and feel."
Carbonates are sedimentary rocks deposited in marine environments and are mostly of biological origin. They are made up by fragments of marine organisms, skeletons, coral, algae and precipitation, and consist mostly of calcium carbonate, which is chemically active compared to the sand which makes sandstones.
According to Texas-based oil services company Schlumberger Limited, the evaluation of hydrocarbon in place at a carbonate play relies heavily on the accurate determination of fluids saturation and of total porosity. These characteristics exhibit great variability. Accurate porosity measurements in carbonates require complete mineralogical characterization.
This is ExxonMobil's first carbonate find in the Stabroek Block and as such there are still many unknowns. "There's just so much more information that is needed before we'll have any idea; is it commercial and how big is it," Brasington stated.
ExxonMobil affiliate Esso Exploration and Production Guyana Limited is operator in the Stabroek Block and holds 45 percent interest. Hess Guyana Exploration Ltd. holds 30 percent interest and CNOOC Nexen Petroleum Guyana Limited holds 25 percent interest.