Over 100 exploration wells are expected to be drilled in South America outside Brazil over the next 7 years and Norway-based Rystad Energy says most of the action could be found in the north where some of the deepest wells are located.
The regions of Guyana, French Guiana, Suriname, Trinidad and Tobago and even offshore Colombia are opening new opportunities and markets for the industry.
"We also see that Guyana, Trinidad and Colombia are where we will find the deepest and most complex wells…It is interesting to note that the deepest wells are to be drilled in Colombia and Guyana, two countries with fairly limited experience of drilling deep-water wells," Rystad said.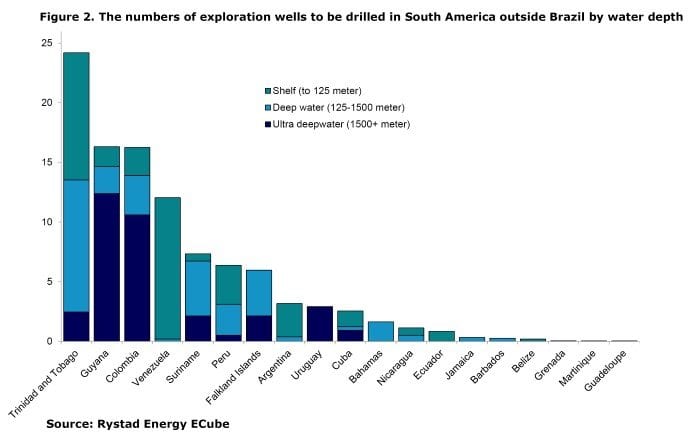 The numbers indicate that more than 50 wells will be drilled in South America in water depth of over 1,000 meters until 2023. Most of these wells are concentrated in the northern offshore regions in South America. "Even though few wells have been drilled in ultra-deep water by these countries, the operators are well known. Anadarko, Exxon, Shell and BHP all have good track records in drilling deep water exploration wells," the analyst stated.
The offshore area north of the South American continent was dominated by gas discoveries until Exxon had success with finding oil in the Liza field outside of Guyana in the Stabroek block. "It is also interesting how the offshore activity in the area has been concentrated to Trinidad and Tobago waters, with only a few exceptions. It also shows the relative size of the discoveries in Guyana and is by far the largest oil discoveries made in this part of the world," Rystad pointed out.
The Liza Phase 1 development, which will bring first oil for Guyana, is located approximately 190 kilometers offshore in water depths of 1500 – 1900 meters. Four drill centers are envisioned with 17 wells in total; eight production wells, six water injection wells and three gas injection wells. Oil production will get underway by 2020.