An analysis written by The Value Portfolio, published on crowd-sourced content service provider Seeking Alpha says Guyana is a game-changer and is defining a new era for ExxonMobil with current discovered assets touching almost 11 billion barrels stretched across roughly 100 miles.
The company has used extensive 3D seismic data and drilled what it sees as numerous high potential reservoirs, finding an average of 500 million barrels per discovery with a 90% success rate in drilled wells.
The analysis points to production capacity growing to 1.3 million barrels per day across 6 FPSOs by 2027. "These FPSOs tackle roughly 4 billion barrels of total resource. That implies roughly 700 million barrels of tackled resource per FPSO with a reserve life of a decade."
The company is moving towards 1 FPSO/year in 2024 in-line with its 10 FPSO peak estimate. Exxon's 'design-one, build-many' approach is leading to strong efficiencies with $35/barrel breakeven (Brent) for Liza Phase 1 and $25/barrel breakeven (Brent) for Liza Phase 2. Payara is expected to have breakeven at $32/barrel and Yellowtail is expected to be at $29 / barrel for investors.
"Long-term we expect a breakeven to be at $27-29/barrel for the company's long-term FPSOs. The company's first 3 development projects (Liza Phase 1 – (100k barrels/day @ $35/barrel, Liza Phase 2 – 220k barrels/day @ $25/barrel, Payara – 200k barrels/day @ $32/barrel) have a weighted average at $29.6 / barrel," according to The Value Portfolio. "We expect additional cost improvements to get it to our $27-29 range given Liza Phase 1 as the highest cost project and half the size."
If the company reroutes earlier FPSOs to later projects once the reserves are utilized capital costs for future wells could be much lower (potentially in the high $10s/barrel given that Payara has $15/barrel in initial capital costs).
"ExxonMobil's own guidance is for roughly 2.1 million barrels/day in production with a breakeven at roughly $28/barrel," the analysis outlines.
Guyana also has significant long-term resource potential outside of ExxonMobil's initial guidance.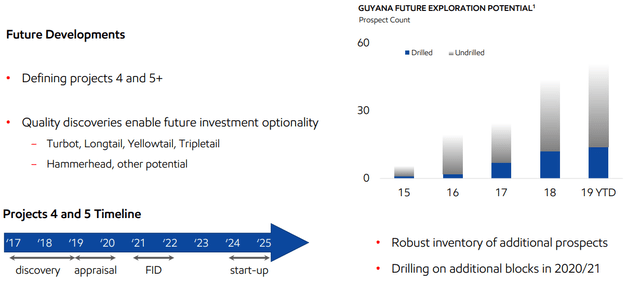 ExxonMobil has found its massive resources with roughly 10-15 drilled wells and it has 2x as many undrilled prospects as that. The company's own estimate for final basin resources is >2x its current discoveries pointing towards 25 billion barrels in resources. That's a 30–40-year reserve life at 2.1 million barrels/day.
"We see the company look to accelerate that and continue the 1 FPSO/year trend if not also slightly accelerated that. In our view we see the basin's total production reaching 3+ million barrels/day especially when combined with ExxonMobil's newer assets in Suriname etc. that are still being explored," The Value Portfolio analysis states. "By the early-2030s we expect total production to range from the 2.1 million barrels to 3.5 million barrels."
The Value Portfolio says Guyana has the potential to be a "company maker" for ExxonMobil "especially with current prices >$80/barrel Brent."
According to the analysis, the Guyana basin has the potential to generate $10s of billions in earnings.
Analysts have said the significant sums Guyana is set to receive in oil revenue can make the country one of the rishest in the world, per capita.