Originally published in the Geological Society of Trinidad and Tobago (GSTT) HAMMER Magazine – February 2021
The CARICOM region is now one of the hot spots globally for oil and gas activity, with most of the drilling taking place in Guyana and Suriname. Combined, they will have at least 9 rigs operating during 2021. Grenada and Jamaica are also contemplating future drilling activity.
Guyana: In 2021, at its peak, Exxon will operate 6 drillships in Guyana, simultaneously exploring, appraising discoveries, and drilling development wells to bring on the Liza Phase 2 and Payara fields. Production is currently 120,000 bopd from Liza Phase 1; Phase 2 will add 220,000 bopd (2022) and Payara will add another 220,000 (2024). There are at least 15 more fields to come on production after these from the Stabroek Block. Exploration has just begun in Exxon's other two blocks, Kaieteur and Canje. Tullow and Repsol made heavy oil discoveries in 2019 (Orinduik and Kanuku Blocks), and their future drilling plans are yet to be announced. CGX also has a commitment to drill at least 1 well in their Corentyne Block, but this has been postponed several times over the past few years.
Suriname: 2021 has had 5 exploration wells drilled in a row, every single one of them announced as hydrocarbon discoveries. 4 went to Apache and 1 to Petronas. Total has taken over operatorship of Apache's Block 58 and has already signed 2 rigs to drill in 2021. Tullow began drilling a deepwater well in late January in Block 47. Petronas will likely drill again in Block 52 during 2021/2022 after analysing its recent well results and newly acquired 3D seismic. Shell has acquired Kosmos' Suriname blocks (42 and 45) and drilling is being planned for 2022. Exploration drilling is yet to start for blocks operated by Exxon, Equinor and Cairn. Further, Staatsolie has opened a bid round for shallow water blocks as shown below.
And what about T&T?
Average for 2020:
Oil + condensate production: 56,000 bopd
Natural gas production: 3.1 bcf/d
Source: MEEI
T&T is a mature producer, over 100 years in the business. Our geology is extremely complex, unlike the passive margin deposits being found now offshore Guyana and Suriname. Deepwater exploration in T&T is therefore very risky, and the chances of success are still low. Our producing fields are in various stages of maturity and many require large capital investments to improve or just maintain production. The oil story remains grim, as most of the known oil resources lie with Heritage, who is yet to demonstrate any tangible plans for meaningfully increasing oil production. However, the country remains a major gas producer, and several development projects are underway to ensure new gas supply. The tentative dates and details for these projects are as follows, and the map below shows the approximate locations:
Q4 2021 – BHP – The Ruby field in Block 3(a) is carded to bring 80 mmscf/d and 16,000 bopd from 4 oil and 1 gas well.
2021 and 2022 – Touchstone – Onshore gas and condensate discoveries Coho, Cascadura, Chinook and Cascadura Deep should all come on production within the next few years. Coho will produce 10 mmscf/d from 1 well from April 2021. Cascadura and Chinook are targeted to be on production end of 2021 or beginning of 2022 and together should produce anywhere from 70 to 100 mmscf/d. Cascadura Deep needs further testing before production volumes can be ascertained. Low cost of onshore development and proximity to gas pipelines together with the relatively large volumes being encountered means that these will be some of the most economically favourable projects to take place. Exploration continues with Royston in the coming months.
Q4 2021 – Shell – The Barracuda development will produce 200 – 250 mmscf/d from 2 wells in the Bounty and Endeavour fields tied back to the Dolphin Platform.
Q3/Q4 2021 – Cassia C is a compression project that will allow BP to produce low pressure gas reserves from currently producing fields in the Greater Cassia Area. The platform will have a throughput capacity of 1.2 bcf/d.
Q1 2022 – De Novo – The Zandolie field on the west coast in Block 1a is expected to produce 40 mmscf/d from 1 well. This will be De Novo's 2nd producing field after Iguana which began production in 2018.
Q2 2022 – BP – Matapal will exploit the Savannah discovery (2017) and will begin producing 400 mmscf/d from 3 wells tied back to the Juniper platform.
2022 – Shell – The Colibri development of the north coast blocks NCMA 4 and Block 22 will deliver 250 mmscf/d from 4 wells in the Cassra, Iris and Orchid fields tied back to the Poinsettia Platform.
TBC 2022/2023 – EOG – Osprey East Development. Up to 9 wells possible, expected production not public at this time.
TBC 2024 – BP – Cypre development will be tied back to Amherstia Platform and produce 350 mmscf/d from the Macadamia field (discovered 2017).
TBC 2025 – Shell – The long-stalled development of the cross-border field Loran-Manatee is expected to go ahead alone on the Trinidad side, with production tentative from 2025. The 10 tcf field has 2.7 tcf on the Trinidad side with an expected recoverable resource of 1.8 tcf. Production from T&T's portion is projected at a minimum of 350 mmscf/d.
TBC 2026/2027 – BHP – The northern deepwater discoveries (Bongos, Tuk, Bele, Hi-Hat, Boom) has been disclosed by the MEEI to total approximately 6.6 tcf of in place gas. Minister of Energy Franklin Khan has stated (2020) that if BHP determines these fields to be economic and go forth with development, production will be anywhere between 600 to 1000 mmscf/d.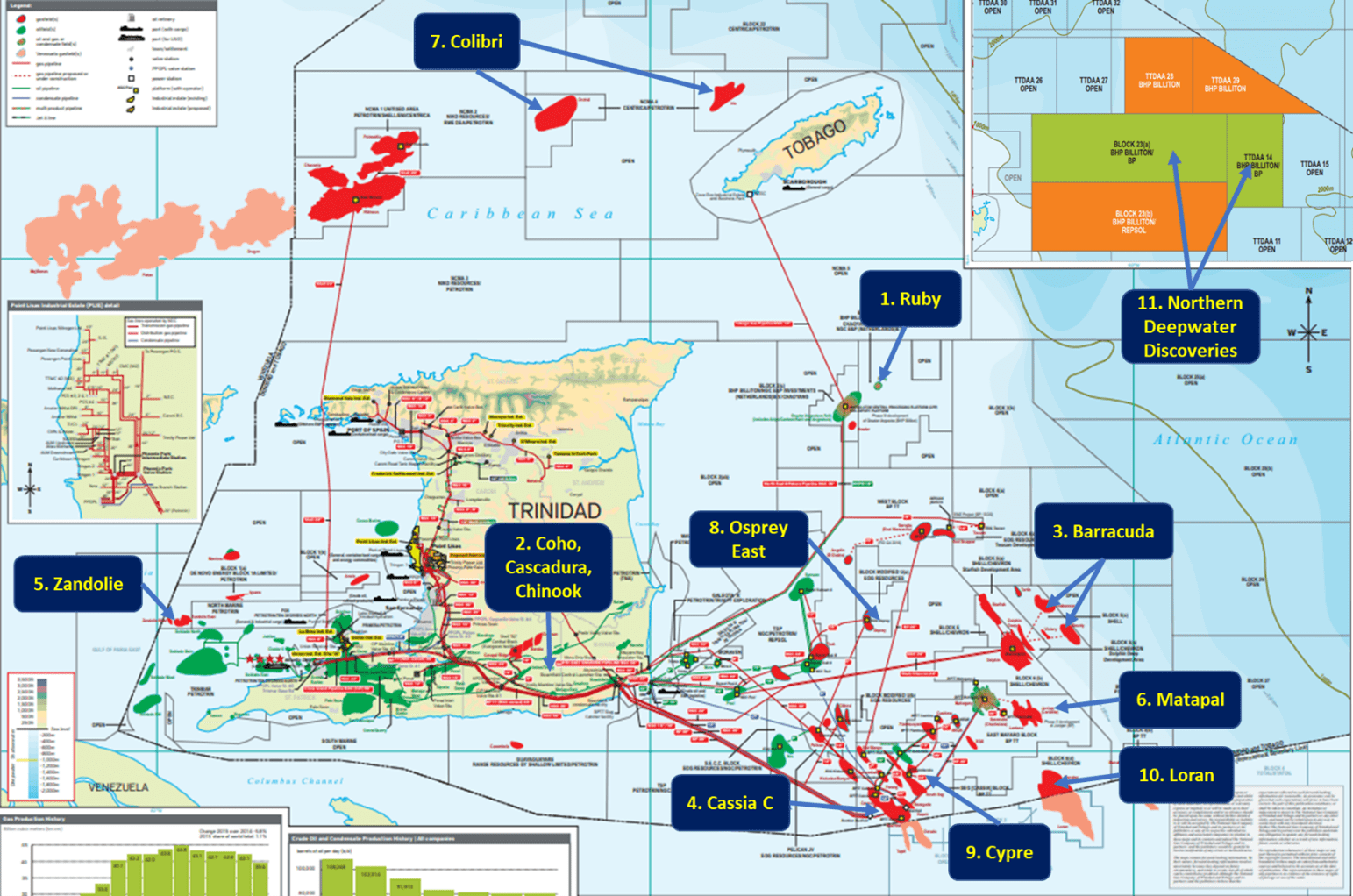 Exploration, discovery and development of gas resources has to happen on a continuous basis to ensure the longevity of our mid and downstream industry. We have seen over the last 8 years or so the deleterious effects that uncertain gas supply has had on the Pt Lisas Industrial Estate, the economy and the lives of thousands of citizens.
Unfortunately, exploration in T&T has almost ground to a halt over the last few years. No bid rounds have taken place since 2013. The major highlight has been Touchstone's 4 in 4 success in the Ortoire Block. Perenco has made it clear they will not be exploring, only getting more out of what already is developed at TSP. BHP has found significant gas in the deepwater in the last 4 years but it's highly publicized Broadside-1 was a bust. BP and Shell's exploration plans for T&T are unknown as they move towards a carbon neutral future. EOG discloses very little to the public but even they have no drilling planned in 2021.
The GSTT is willing and capable to advise the MEEI and other government entities on strategies that can strengthen the upstream sector once again. The longer that T&T takes to act, the more we jeopardise our energy future.