Frontier exploration drilling fell to its lowest level since 2008 with only 15 frontier wells being completed and only one making a potentially modest sized commercial discovery according to a report released this week by energy market research and intelligence company Westwood Energy.
The commercial success rate declined from an unusually high 41% in 2020 to 31% in 2021, but still higher than the 23% average in 2016-2018.
"Emerging play exploration was dominated by the Upper Cretaceous play offshore Suriname-Guyana where four discoveries added an additional estimated ~1bnbnoe," Westwood said.
High impact drilling in more mature, established plays delivered 13 potentially commercial discoveries and a 43% commercial success rate. However, only seven of these appear to be >100mmboe post-drill.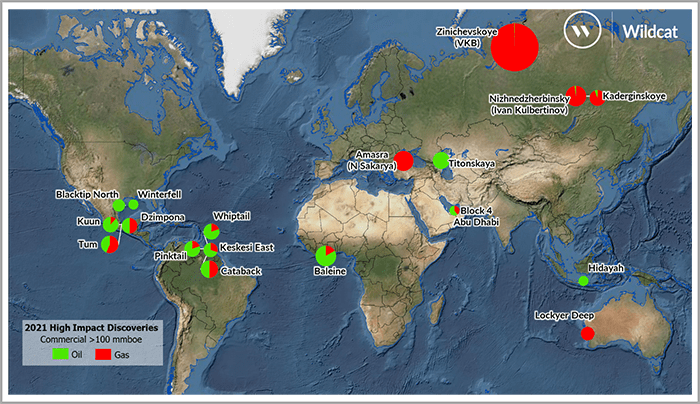 Discovered resource was disappointing, down from 19bnboe in 2020 to 6.6bnboe in 2021, split 36% oil and 64% gas. According to Westwood, the commercial success rate declined from an unusually high 41% in 2020 to 31% in 2021, but still higher than the 23% average in 2016-2018.
Seventy-two companies participated in the 74 high impact wells drilled in 2021, with 38 companies participating in only a single well. The most active high impact explorers were Exxon (13 wells), Total, Petronas & Shell (nine wells each).
"Rosneft and BP were the only companies to deliver >1bnboe net, however, due to their exposure to some large discoveries in Russia. Repsol and Eni fell out of the list of most active explorers participating in only three high impact wells each. Both companies have stringent net zero targets," Westwood stated.
2021 showed there was no obvious loss of appetite for high impact exploration at the drill-bit, but the decline in frontier exploration drilling shows that the industry is less concerned with long term renewal and is instead focused on quicker returns. The outlook for 2022 drilling plans suggests this pattern will continue with 70-80 high impact wells expected to be completed in the year, a similar level to 2020/21.
"Hot spots for drilling in 2022 will be mostly in South America, particularly in the Suriname-Guyana Basin and offshore Brazil," Westwood said. "The Gulf of Mexico will be a hotspot, both offshore US and Mexico, and key wells are also expected in the Flemish Pass offshore Eastern Canada."
The combined unrisked predrill resource potential (from wells either drilling or considered firm or probable wells) in 2022 is estimated to be ~30bnboe which Westwood estimates as ~8bnboe on a risked basis.
"So, despite the energy transition, the E&P sector has so far maintained the high impact well count.  Whether this will continue beyond 2022 is the question," the consultancy group stated.