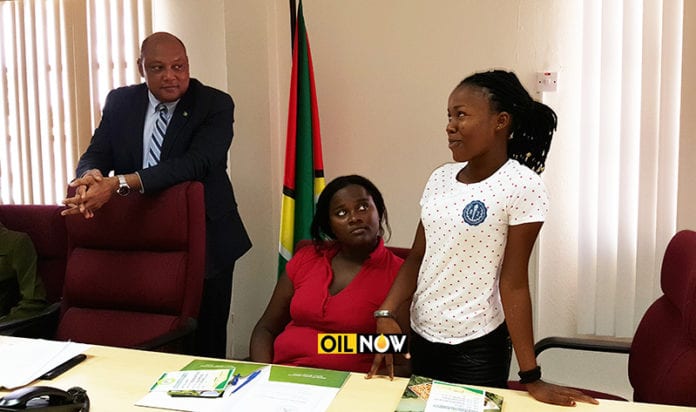 Sixteen youths will have an opportunity during the month of August to learn more about the operations of the agencies and industries in Guyana's natural resources sector, as part of a Youth in Natural Resources Apprenticeship Programme, launched today by the Ministry of Natural Resources.
The youths, aged 15 to 18, will tour a number of facilities and field locations, inclusive of key bauxite and gold mining operations as well as Guyana Shore Base Inc. which will serve as an onshore supply base for oil production operations.
They were briefed on Monday by Minister of Natural Resources, Raphael Trotman and other officials, at the ministry's Brickdam, Georgetown office. Mr. Trotman told the group gathered that as pioneers of the apprenticeship programme, they will be welcomed to return next year to help with the second batch of young people. He said the programme is intended to give the participants some insight and help cultivate an appreciation of the extractive industries' importance to the national economy.
"The Youth in Natural Resources Programme is to let you see that there is virtue in the extractive industries," he said, adding that logging, mining and other activities all serve to create jobs and contribute significantly to the national economy.
A number of companies are supporting the programme, including ExxonMobil Guyana, Farfan & Mendes, Guyana Gold Fields and Bosai Minerals Group (Guyana) Inc.
The programme will conclude on August 28 with a closing ceremony at which the youths will receive certificates for participating in the initiative.