The third batch of sub-sea pipes for the Liza Phase 1 Development Project is expected to arrive in Guyana within weeks as work intensifies ahead of first oil in the South American country.
Speaking to OilNOW on Thursday at the shore base facility where pipes and other equipment are being stored for the company's offshore operations, Saipem Country Manager, Thuranthiran Nadarajah, said the arrival of pipes and other equipment are a clear indication that all systems are a go for Liza Phase 1.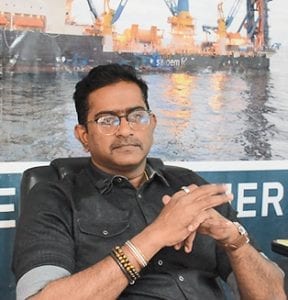 "People who are skeptical about the oil and gas; currently they have proof that the actual sub-sea structure that is going to connect to the bottom of the sea – it is already in town. So, the first batch of pipes arrived in December and now we have the second batch. The third batch is going to arrive at the end of the month, or the beginning of February," he said.
The Country Manager pointed out that in total there will be over 6,000 pieces of pipes which amount to around 70 kilometers of pipeline. "There are various pipes. We have the production line and production risers, we have the gas injection and risers and we also have the water injection and water injection risers."
The company has also started to receive the buoys frames, pipe coating and other equipment for development works offshore. "All this stuff is on its way to Guyana as we speak," he stated.
Saipem has been awarded an Engineering, Procuring, Construction and Installation (EPCI) contract for the Subsea Umbilicals Risers Flowlines (SURF) package for the Liza Phase 1 development offshore Guyana at the Stabroek Block. Saipem's contract also includes transportation and installation of umbilicals, manifolds, and associated foundations for the production, and water and gas injection systems.
The company has also been awarded contracts for the second phase of the ExxonMobil-led Liza development to the tune of 700 million USD. These contracts were assigned by Esso Exploration and Production Guyana Limited (EEPGL), an affiliate of ExxonMobil, as the project operator, in partnership with Hess and CNOOC Nexen.