The economic activity in the new oil producing country of Guyana is expected to continue on an upward trajectory and one analyst says the pace of this growth will really be determined by the infrastructure, incentives and framework the country puts in place as oil discoveries offshore continue to balloon.
"I see the GDP per capita growing significantly, employment improving overall, foreign investment continuing to grow, and the Guyanese diaspora start coming back to the country," Arthur Deakin, Analyst at America's Market Intelligence (AMI) told OilNOW is a recent interview.
He said the South American country will continue to grow regardless of regulatory constraints or the political climate, although positive outcomes in these areas would mean that the growth would be at an even faster pace.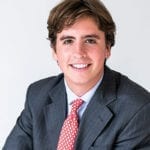 "I think that Guyana is going to grow in spite of what happens regulatory wise and political wise, but it's going to grow much faster if it has the right infrastructure, the right incentives and framework in place," Deakin pointed out. "So, if you had to think about it, it's either going to be a 5x growth if the framework is not great versus -these are hypothetical numbers- a 10x growth if the incentives in the framework in place are the correct ones. So, the growth is going to happen, and I think the Guyanese society as a whole is going to benefit."
It is estimated that with Guyana's relatively small population and the size of the discovered resources so far in the order of over 10 billion oil equivalent barrels, Guyana will eventually have one of the highest per capita incomes in the world.
But Deakin said special attention must be given to the indigenous and rural population who are most at risk of being left out of the development drive.
"You can't forget about the indigenous population, the rural, agricultural families. I think those communities are the ones that are most in danger from not benefiting from all of this, so they need to have special programs, special attention to these communities, these underserved communities," he pointed out.
Guyana began producing oil in December 2019 with the Liza Phase 1 development. It is estimated that by 2026 up to five Floating Production Storage and Offloading (FPSO) units will be producing over 800,000 barrels of oil per day. The country is also forging ahead to becoming just the 11th nation in history to reach the one million barrels per day milestone.