Guyana's Vice President Dr. Bharrat Jagdeo says the administration is leading from the front to ensure the country of just over 750,000 people benefit from the more than 10 billion barrels of oil equivalent resources which have been found offshore since 2015.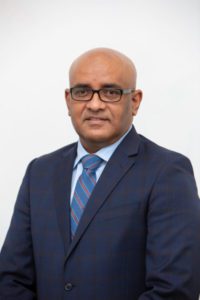 "I don't think any country has led more from the front as we have recently on ensuring that their people benefit from oil and gas resources," Mr. Jagdeo said during an interview last week with the National Communications Network. "I've examined the experience of Trinidad and Tobago, many of the other countries on ensuring this."
Just weeks ago, the government passed the landmark Local Content Bill and finalized key amendments to the Natural Resources Fund, delivering legislation that will play a pivotal role in the management of the country's emerging oil and gas industry.
"We have a law now which says to oil and gas companies and to their sub-contractors…you have to now hire only Guyanese or Guyanese companies in those areas up to a certain percentage. So, in some areas it's 100 percent, some areas it's 90 percent," Mr. Jagdeo said. He pointed out that this presupposes the country already has the capacity in some areas which could deliver between four to six hundred million U.S. dollars a year.
The legislation paves the way for Guyanese nationals and Guyanese companies to participate in no less than 40 critical areas in the oil sector which government and a number of private sector stakeholders say will ensure international oil companies and their contractors utilize more local services and products.
"So, this is even before we start any training. Now we're establishing a training institute as part of this [2022] Budget, and we've set aside money to train welders, everyone else, so that's just incremental to give our people more skills so they can even go into other areas, not just the 40 areas, but we can start expanding that list into more complex operations like fabrication, etc.," the Vice President stated.
To deliver on its legislative target, the Bill puts in place regulatory mechanisms to implement, investigate, supervise, co-ordinate, monitor, and evaluate participation in local content in Guyana. It also includes hefty fines for non-compliance.
"So, we're way ahead of the game," Mr. Jagdeo said, pointing out that the law now demands that companies submit two plans upfront – a five-year local content development plan and an annual local content plan.
"They will have to have three sub-components: employment sub-component, which shows us how they're employing people. Secondly, a training capacity-building component, each of these companies will have to show how they're building local capacity; and thirdly, procurement," he said.
The prioritization of Guyanese nationals and companies will guarantee that there is increased retention of the economic benefits in Guyana while simultaneously allowing for there to be an upsurge in the number, competencies, and capabilities of locals participating in the petroleum sector. The law makes it clear that for a company to be considered local it must have at least 51 percent ownership and 75 percent management. Additionally, 90 percent of staff must be Guyanese.
"So, this has suddenly made Guyanese companies very attractive and Guyanese nationals who have been registered there," the Vice President said. That's what I mean by transferring some of this wealth to our people. We can't build the FPSO, so apart from the royalty that we get and apart from the share of profit oil, we have to get some of the business opportunities."