Large institutional investors decreased their net holdings in many of the world's largest integrated oil and gas majors in the first three months of the year as measures to curb the spread of COVID-19 crushed petroleum demand, crashed oil prices and deflated market value for a long list of energy companies, S&P Global Market Intelligence said in a report on Friday.
However, that trend was bucked by some investors that entered the sector with the hopes of cashing in on the eventual recovery in oil prices.
Public Investment Fund of Saudi Arabia was among the top buyers of three integrated company stocks in the first quarter, acquiring new stakes in Total SA, Royal Dutch Shell PLC and BP PLC. The fund manager purchased a net 6.0 million shares of Total, 27.7 million shares of Shell and 203.6 million shares of BP.
In the first quarter, Vanguard Group Inc. increased its holdings in Total by 4.7 million shares, its ownership in Chevron Corp. by 6.2 million shares, and its holdings in Exxon Mobil Corp. by 13.4 million shares.
Conversely, Capital Research & Mgmt Co. dumped a net 5.7 million shares of Total, 49.6 million shares of Exxon, and 315.3 million shares of Shell in the first quarter. Managed Account Advisors LLC sold off a net 10.2 million shares in Exxon and 28.1 million shares in Shell over the three-month period.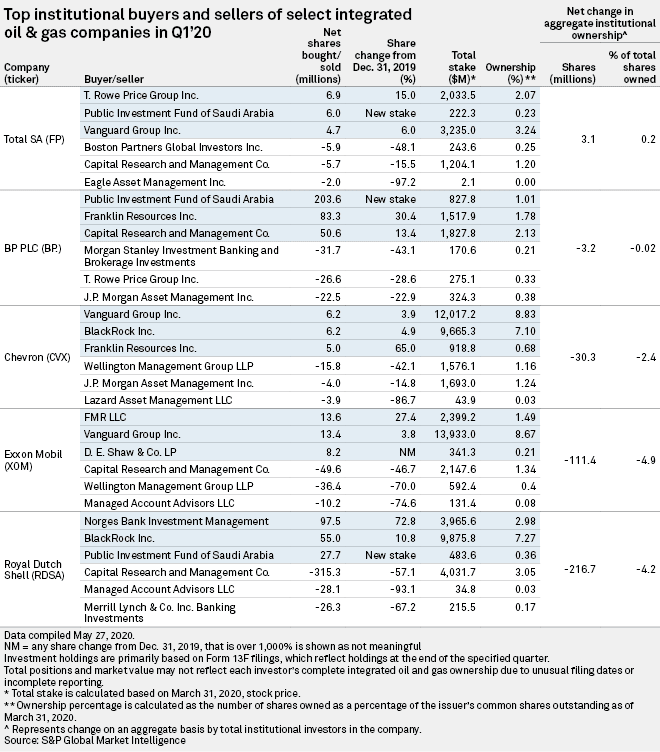 The first-quarter earnings season was brutal for the integrated oil and gas majors, who have all announced cuts to capital expenditures and operating expenses to protect their bottom lines.
Shell took the market by surprise, cutting its dividend for the first time since World War II as oil prices plunged in response to a supply glut and demand destruction caused by shelter-in-place orders around the globe due to COVID-19.
To address the epic oil price crash, Exxon and Chevron, which had one of the strongest balance sheets of the majors heading into the quarter, are both reining in upstream production around the world, including in one of the world's hottest oil plays — the U.S. Permian Basin.
Source: S&P Global