ExxonMobil Guyana Senior Director, Public and Government Affairs, Kimberly Brasington's tenure will conclude at the end of June, after serving a period of three years in the position. She will be taking up a new portfolio in Houston, Texas.
Brasington arrived in Guyana just after the world class Liza discovery was made in May 2015 under the stewardship of then Country Manager, Jeff Simons. Since that time, she has been able to forge close relationships with key stakeholders, the media fraternity and the Guyanese people which the company's Director, Government Relations, Carlton James, has described as 'phenomenal'.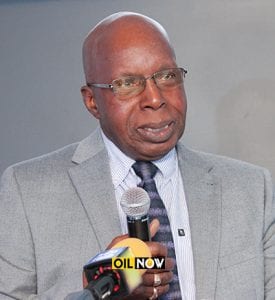 Speaking at a reception on Wednesday evening at the Pegasus hotel in Georgetown to mark her departure, James said one of the notable qualities of Brasington is her mission to ensure that the people of Guyana expand their knowledge of the petroleum industry, which is new to the South American country.
"Her constituency has grown tremendously because of that commitment. She got to know her counterparts quickly; government officials, members of the Parliamentary Opposition and others got to know her and liked her," he pointed out.
Brasington's progressive approach to media and public relations saw her forging close ties with the local media corps, which over the last two years in particular, served to open up a much needed avenue for the flow of information about the industry and the company's operations in the country.
Guyanese were able to learn, through the media, about how the petroleum industry worked and the untold potential benefits oil production could bring to the nation of just 750,000 people.
James recounted how Brasington was always eager to learn more about the various communities and the diverse cultures that formed the fabric of the Guyanese society. This he said, has played an integral role in her being able to effectively communicate and relate to various groups of people in the country.
In brief remarks, an emotional Brasington said her time in Guyana has been an "amazing chapter" in her life and one that has thought her a lot about people and herself. "When I first came here almost three years ago I was not sure what to expect. And I still don't know what tomorrow or the next week will bring, if we are honest. I have truly fallen in love with this beautiful country and so many of the people here," she said.
The outgoing company official said she is extremely proud of the relationships she has built and the progress made together with various partners and stakeholders.
"To have been here at the beginning of such a significant milestone in the country's history has been an honour from a professional perspective I would never be able to duplicate in my career, and to be living here as part of your community has been an honour to me personally," she told the dozens of media professionals, journalists and guests gathered.
Brasington also used the occasion to introduce Deedra Moe, who will be replacing her as Senior Director, Public and Government Affairs, effective July 1.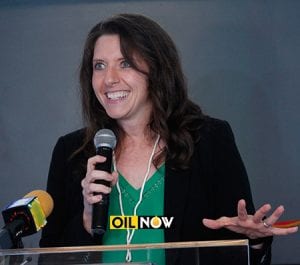 Moe is the Operations Public and Government Affairs Manager for the ExxonMobil Fuels & Lubricants Company and has also served as the Public and Government Affairs Manager for the company's Baytown area refining and chemical operations.
Having worked with the US oil major for 16 years, Moe said she looks forward to further developing relationships with the various stakeholder groups in Guyana.