SBM Offshore, the builder and operator of floating production storage and offloading (FPSO) units operating offshore Guyana, on Wednesday celebrated five years of operations in the new oil producing South American country. The auspicious occasion was marked with the grand opening of the company's new office in Georgetown.
Speaking at the event, General Manager, Francesco Prazzo said the history of Guyana is in the making and SBM Offshore has been part of this for the last five years, working closely with the Guyanese people, contributing to the country's economic growth and development.
"Together, we are creating a new leader in the energy market," he told those gathered, which included Guyana's President, Dr. Mohamed Irfaan Ali, Minister of Natural Resources, Vickram Bharrat, ExxonMobil Guyana President, Alistair Routledge several other officials and special invitees.
"We believe that successful and inclusive initiatives must deeply involve local actors, both private and public, disseminate knowledge, and facilitate the development of clusters," Prazzo said.
The company's operations in the country currently involve more than 530 people full time, of which 46% are Guyanese.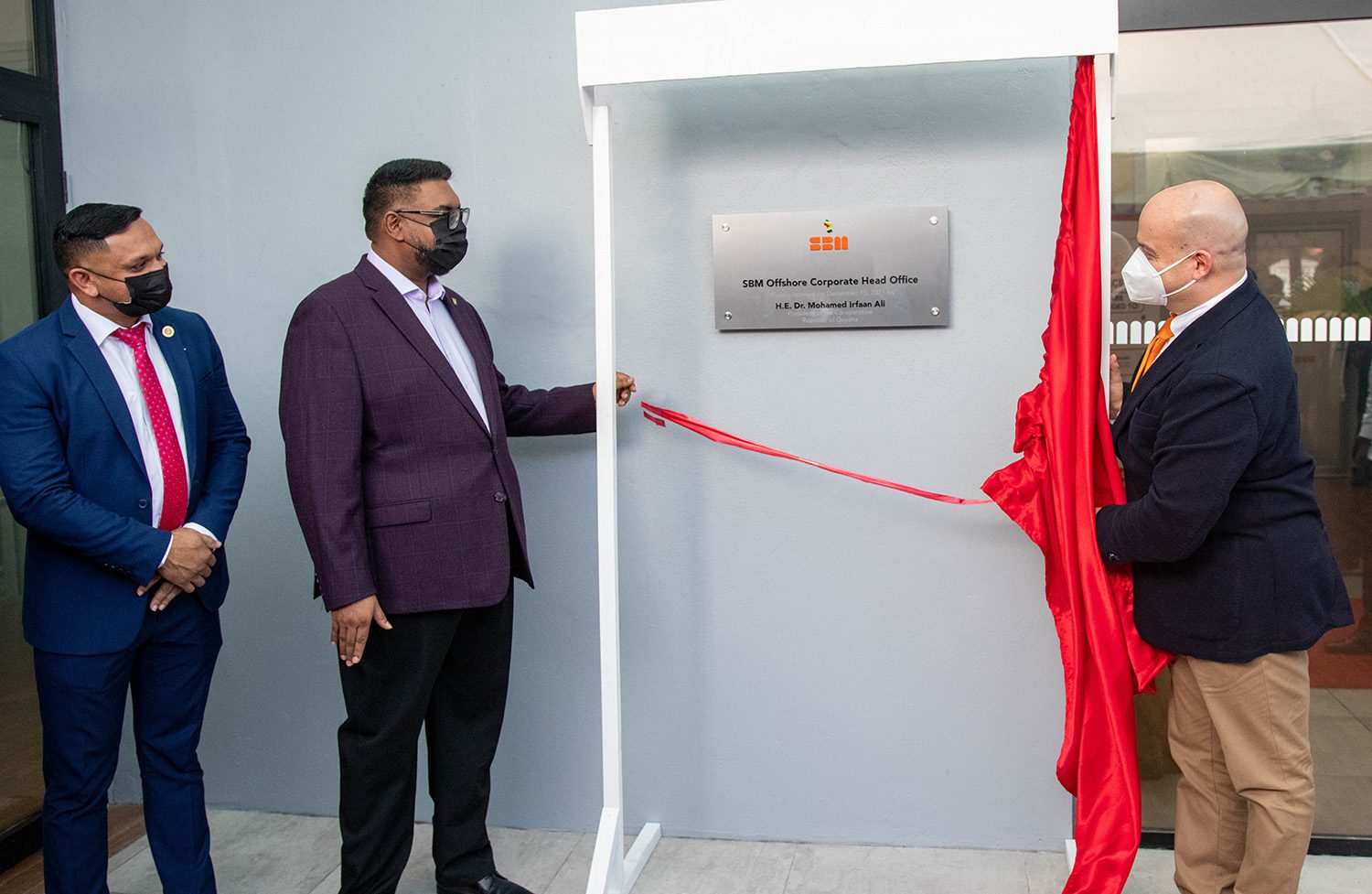 SBM Offshore began operating in Guyana in December 2016. The first Guyanese employee and current Human Resource Manager, Onecia Johnson, who has been with the company for three years, said she considers SBM Offshore the epitome of a multi-cultural organisation working together across borders and bringing together cultures to align with global practices, while ensuring those practices are adapted to the local context.
"Today I have no doubt that I am part of a company that embraces values that transcend across its operations. Our values of Integrity, Entrepreneurship, Ownership and Care—not just care for our employees, but all stakeholders in the environments in which we operate, are always visible and embedded in our way of life," she said.
SBM Offshore providing training opportunities for Guyanese to work on FPSOs
SBM Offshore's Managing Director of Operations, Oivind Tangen spoke of the company's vision for developing local competency to support its operations. "We are committed to sharing and transferring all our knowledge generously, and with the same incredible enthusiasm that we met from all our employees here in Guyana for our first five years of operations."
He added that the company is dedicated to facing challenges that arise in a manner that ensures responsible and sustainable operations.
President of ExxonMobil Guyana, Alistair Routledge spoke of SBM Offshore's global reputation as a trusted name in floating solutions for the energy sector.
He remarked on SBM Offshore's enthusiasm in engaging the local workforce. "Since the first contract for the [Liza] Destiny FPSO (Floating Production Storage and Offloading vessel) was awarded to SBM [Offshore], the company has shown its commitment to the development and employment of the Guyanese workforce," he noted.
Routledge congratulated the company on its progress over the last five years, while highlighting its accomplishment of over 800 days without any Total Recordable Injuries (TRI) on the Liza Destiny FPSO. "Congratulations once again to SBM Offshore and their team for reaching this five-year milestone," he said.
President Ali in his address to the gathering recognised SBM Offshore's efforts in utilising local companies and the Guyanese workforce. He emphasised the importance of local companies being involved in all aspects of the industry, pointing to SBM Offshore's utilisation of Guyanese companies—Industrial Fabrication Incorporated and Guyana Oil and Gas Support Services Incorporated—for the fabrication of fixtures for the Prosperity Floating Production Storage and Offloading (FPSO) vessel.
Meanwhile, Minister Bharrat who delivered the feature address, assured attendees that the government will play its part in building local capacity at all levels. Speaking to the company's presence over the last five years, he said, "I am pleased to know that SBM [Offshore] too has on their payroll, at least 46 percent Guyanese and that is something we will encourage.
SBM Offshore to build largest producing unit in company's history for Exxon's Yellowtail project
The company's first FPSO – the Liza Destiny – began producing oil at the ExxonMobil-operated Stabroek Block in December 2019. It's second vessel, the Liza Unity arrived in Guyana in October and is targeting first oil in early 2022. A third vessel, the Prosperity, is under construction in Singapore and SBM Offshore was recently awarded contracts to perform Front End Engineering and Design for a fourth FPSO.