A sound warning was issued on Wednesday afternoon by the Georgetown Chamber of Commerce and Industry (GCCI) in Guyana over a reported decision by the country's government to enter into an agreement with Trinidad and Tobago.
Speaking at an emergency press conference at the Chamber's Waterloo Street, Georgetown, office, President of the body, Deodat Indar, said GCCI has not been privy to the details of the soon to be signed pact. Trinidad and Tobago's Prime Minister, Dr. Keith Rowley said on Tuesday that he will be traveling to Guyana over the coming week to ink the agreement which will open the way for the twin-island's companies to benefit from oil and gas opportunities.
But the GCCI President made it clear that signing any agreement with the Trinidad government in the absence of a local content policy or legislation is a potentially dangerous move that can have far-reaching negative effects on the business community and the country.
"I am saying that we don't have a policy, we don't have any legislation for local content, but yet we're going and do these MoUs. I think that they should wait. I am asking government to hold on this. Let the private sector see what the verbiage is in this MoU so that we know that it would not be adverse to us," he stated.
While acknowledging that "every government has the right or not, to sign any agreement with any country," he said, "But I think a government should have the first obligation to its own private sector."
The business official said failure to proceed with utmost caution would be tantamount to breaking the dam and opening the floodgates of Trinidadian companies. "I am not anti-anybody, I am not protectionist in anyway, but I am a leader of a private sector in Guyana and my first obligation is to my members in Guyana," he asserted.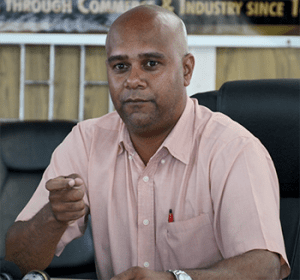 Meanwhile, head of GCCI's Trade and Investment Committee, Timothy Tucker, speaking at the press conference said the private sector in Guyana has issues with Trinidad as it relates to trade, dating back several years. He provided an example of a shipment of honey that left Guyana en route to another Caribbean territory which was subsequently seized in Trinidad and Tobago. "It was never destined for Trinidad, it was just being transshipped through Trinidad like everything else in this country," he said, adding that the twin-island republic had given a commitment following the seizure of honey to rectify a 1935 Act to prevent this in the future, but no further action was ever taken.
The official said it is only fair that if Guyana is opening up the country to welcome Trinidadian businesses that this should be reciprocated. He said since Guyana has become the number one petroleum hot-spot in the region – referring to the more than 4 billion barrels of oil discovered by ExxonMobil off the country's coast – many Caribbean territories are only now "talking about the benefits of Caricom."
Concern has been mounting in the South American country since news broke that an agreement between the two territories is to be signed soon. A number of Guyanese took to Social Media to express their disdain while others, including former Minister of Natural Resources and the Environment, Robert Persaud, implored the government to consider the ramifications of entering such an agreement with Trinidad and Tobago.