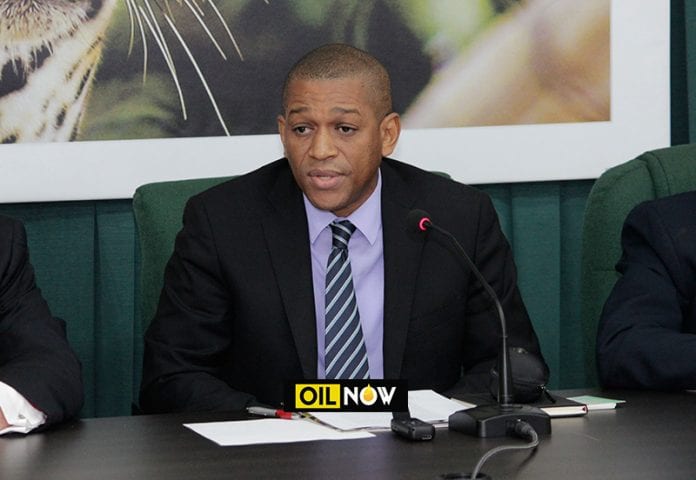 Speaking at his first official press conference since assuming office, Head of Guyana's Department of Energy, Dr. Mark Bynoe told reporters on Thursday, at the Ministry of the Presidency, that any review of the Production Sharing Agreement (PSA) between Guyana and ExxonMobil has to be contextualized.
"As a Government, we will continue to honor contracts' sanctity," he stated.
He was responding to questions from reporters on the renegotiation of the contract between the Government of Guyana and Esso Exploration and Production Guyana Ltd., an affiliate of ExxonMobil, as he made it clear that the Government is committed to its contractual obligations.
Dr. Bynoe then went on to add that, "Any review of the existing PSA has to be contextualized. Contextualized in terms of the investment, the volume of the investment made, the risk and the timing in which said investment occurred."
Sharing his thoughts on the existing contract, Dr. Bynoe said its' focus was always 2020 and Guyana has to learn as it moves forward.
He explained, "Contracts are on a spectrum and they range from excellent to very poor. What we can say is that the current PSA may not be excellent but it is not very poor either and contracts do evolve over time."
The Department of Energy will also be moving very shortly to design a model for future PSAs.
Dr. Bynoe explained, "The Department recognizes the need for a strong legislative framework, but in doing so, it understands the need for us to first review where we are. In keeping with this, the Department is reviewing the current legal and regulatory framework for the petroleum sector, inclusive of the 1986 Petroleum Act."
Oil and Gas Advisor to the Department, Matthew Wilks, explained that "Model contracts are set in the context of the time in which they are introduced. So, a model contract that is used to try and attract investment at the onset of the petroleum industry is very different from a model contract as the industry matures and very, very different from a very mature industry."
The Department of Energy was established on August 1, 2018.