The expanding oil and gas operations in Guyana will have a significant impact on other industries in the country, according to the Canada-Guyana Chamber of Commerce (CGCC). The Chamber says this is the ideal time for foreign businesses to expand their operations in the new oil producing South American country.
Chief Executive Officer (CEO), Natalia Seepersaud said on April 8 that based on projections, the country's growth will see an upward trend and an increase in investment opportunities.
Speaking during a 'Guyana Relocation Forum' which targets businesses looking to set roots in Guyana, Seepersaud said, "It's projected that by 2025, Guyana could be the world's most oil intensive economy, surpassing many gulf states. This translates into significant economic growth for the country and diverse opportunities in infrastructure development, renewable energy, ICT, and housing as well as a new focus on the sustainable development of traditional sectors such as mining, forestry and agriculture."
"Now is the ideal time to expand your businesses into Guyana," she declared.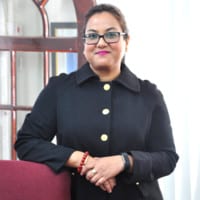 The International Monetary Fund recently adjusted Guyana's projected GDP growth from 8.1 percent to 16.4 per cent. Added to that, Seepersaud pointed out that Guyana's real GDP is projected to be 20.9 percent with the non-oil economy growing by 6.1 percent. Meanwhile, the oil and gas subsector is expected to grow by 46.7 percent.
"That is really amazing when you consider that most economies right now due to COVID 19 are contracting and not expanding," she said.
The Chamber plays a key role in fostering business between Guyana and Canada and according to Seepersaud, many businesses have been reaching out to see how they can invest in Guyana.
She stated, "We're seeing a lot of interest from not only Canada…but a lot of interest from the U.S, Latin America, and the U.K as well as other parts of the Caribbean." Seepersaud recalled that it was on April 7 the chamber held a roundtable discussion with the country's Minister of Finance, Dr. Ashni Singh who related some of the investment opportunities, and invited investors to Guyana.
She noted that the efforts of the Chamber are bearing fruit as they are seeing a lot of activities including mergers with foreign and local businesses.