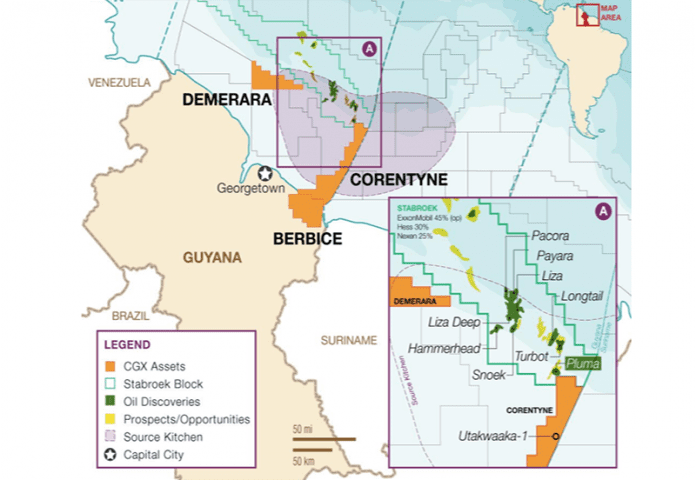 CGX Energy is looking to have its joint venture with Frontera Energy Corporation provide working capital for the company's ongoing commitments on its Berbice, Corentyne and Demerara blocks, through a signing bonus of $33,300,000 paid by Frontera.
CGX said on Wednesday the joint venture, which requires Government of Guyana approval, will allow it to accelerate development of the Corentyne and Demerara blocks, which are the company's two largest offshore concessions.
Frontera, in its corporate presentation released this month, said Guyana opportunities include multiple play types with vertical and lateral migration, derisked by ExxonMobil's multiple discoveries in the adjacent Stabroek block. The company said 8 to 9 prospects have been identified with further potential following additional 3D seismic program and evaluation.
Through its 62.5% owned subsidiary ON Energy Inc., CGX completed a geochemical survey over the Berbice block covering an area of 287 km2 and104 line km; exceeding the coverage required by its work program of 120 km2 by more than 100%.
In 2018, the Company partnered with members of Guyana's Indigenous Aleluya Religion in a naming and blessing ceremony for its Utakwaaka prospect on the Corentyne block. Utakwaaka means "New Dawn" – which CGX said is a fitting name for its renewed activity in the basin.
CGX also resumed developmental works on its wholly owned Grand Canal Industrial Estates Deep Water Port and Logistics Base in Region 6, East Berbice-Corentyne, Guyana, last year.
The company said in 2019, it remains firmly focussed on working with the Government of Guyana and its partners to explore its Corentyne Block, maximise its investments in its deep-water port and position itself to explore its Demerara and Berbice blocks in 2021 and 2023.
"I would like to thank all shareholders for their support and confidence in the company and the Government of Guyana for its collaboration as CGX Energy proceeds to aggressively pursue exploration on its blocks in the exciting Guyana Basin," commented Professor Suresh Narine, Executive Chairman and Executive Director (Guyana) of CGX Energy.
In 2012, CGX participated in two offshore wells in Guyana – the Eagle-1 well was drilled on the Corentyne License and the Jaguar-1 well (HPHT) was drilled on the Georgetown License.  The Eagle-1 well had oil and gas shows and the Jaguar-1 well sampled light oil in two zones. Both wells were abandoned — Eagle-1 as a dry hole and Jaguar-1 for safety concerns.