CGX Energy Inc. completed its rights offering on October 28, raising around US$59 million in support of its operations in Guyana where it is currently pursuing multiple projects, including a major exploration campaign on the Corentyne Block.
"CGX intends to use the funds raised through the Offering for the exploration and development of the Corentyne and Demerara blocks offshore Guyana and the Berbice block onshore Guyana and for the development of the Berbice Deep Water Port in Guyana," the company said.
These funds, as well as additional financing alternatives, are expected to provide the resources necessary to meet all of the company's short-term liquidity requirements over the next 12 months.
CGX said it has exercised the option to drill a second well with Maersk Drilling Holdings Singapore Pte Ltd. through the use of the Maersk Discoverer rig.
"As of November 1, 2021, close to 78% of the planned footage has been drilled and the three prospective targets of the Kawa-1 well remain to be drilled, cased and evaluated with current expectations on reaching total depth consistent with the previous public disclosure," the company said.
Meanwhile, Grand Canal Industrial Estates Inc., a wholly-owned subsidiary of CGX, has commenced the Berbice Deepwater Port Project (BDWP) on 30 acres of land on the eastern bank of the Berbice River in Guyana. The deep-water port facility intends to serve as an Offshore Supply Base (OSB) and a Multi-Purpose Terminal with containerized and specialized cargo handling and agricultural import/export operations.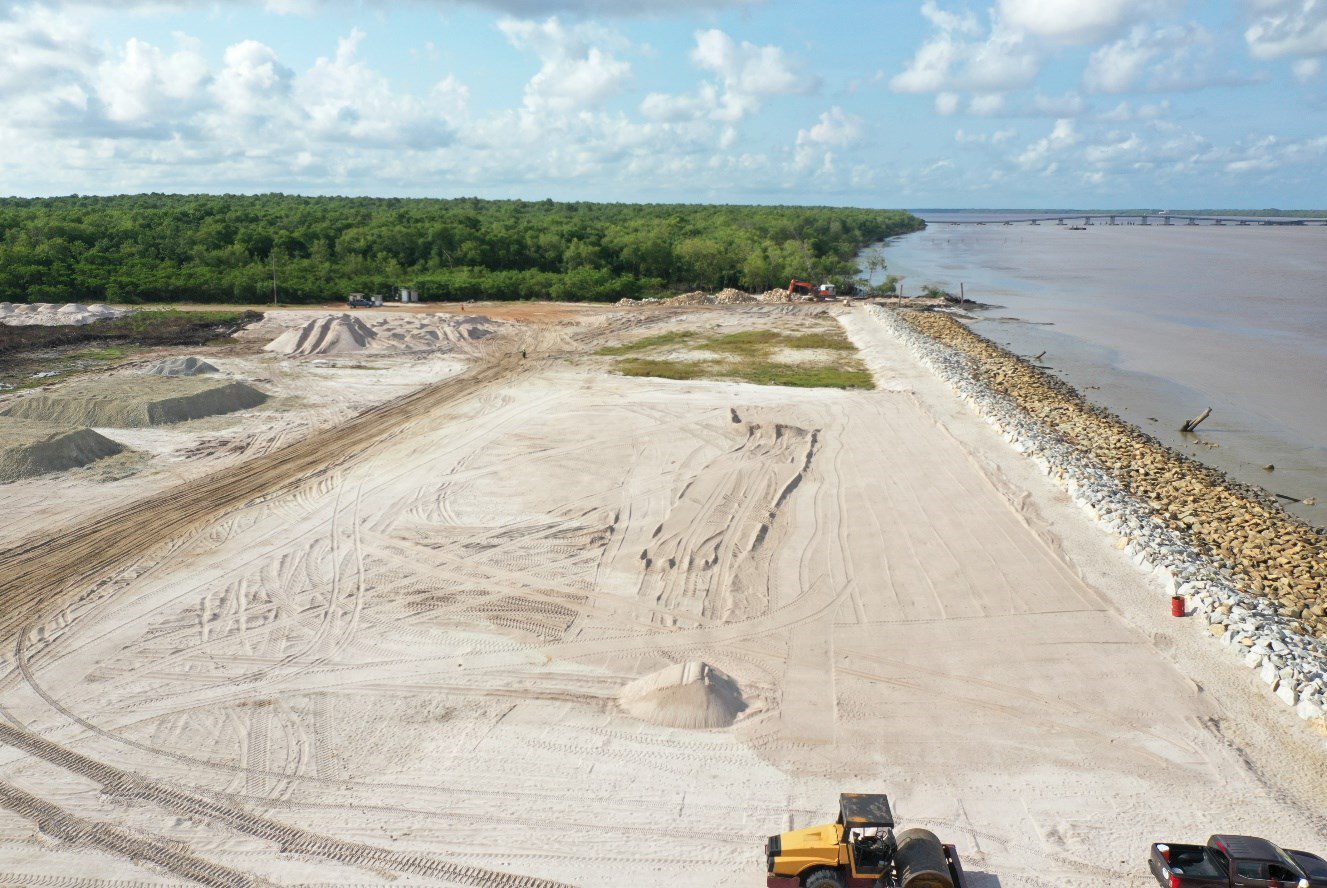 The BDWP will enable provisioning of operators and vendors in territorial waters of both Guyana and Suriname. Construction of the BDWP continues on schedule; active construction is ongoing on the access road (62% completed), bridge from Corentyne Highway (85% completed), rip rap flood protection (94% completed), extension of electricity infrastructure to the port site (85% completed), extension of water infrastructure to the port site (39% completed) and quayside laydown yard (31% completed). All permits and permissions are in place.
CGX said requests for proposals have been advertised for the wharf platform and access trestle, capital dredging program, design and construction of all gates, buildings and fences, design and construction of firefighting and first aid structures and covered storage areas. Currently, evaluations of submitted proposals for the capital dredging and construction of the wharf platform and access trestle are underway.
The OSB portion of the port is expected to be fully operational in the third quarter of 2022, with the multi-purpose terminal, servicing agricultural, general, and containerized cargos being fully operational by the end of 2023.