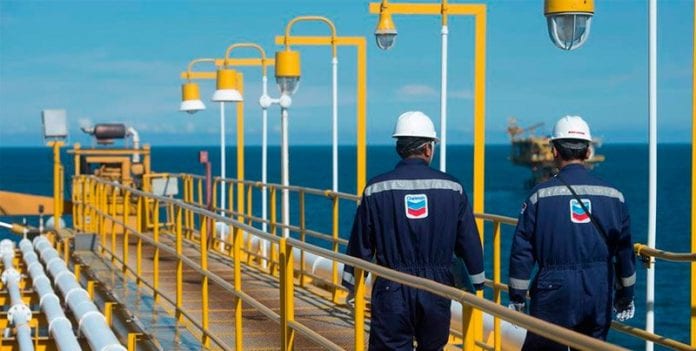 (Upstream) Chevron has continued to see a decline in production from its assets in Venezuela as the company acknowledged ongoing challenges in continuing to operate in the turbulent South American country.
The US supermajor has continued to operate in Venezuela under a waiver that was recently extended to 25 October, a rare exception under a high-pressure campaign of sanctions by the Trump administration that has sought to drive out socialist leader Nicolas Maduro.
"Future events could result in the environment in Venezuela becoming more challenged, which could lead to increased business disruption and volatility in the associated financial results," the company said.
"Future events related to the company's activities in Venezuela may result in significant impacts on the company's results of operation in future periods."
Chevron said output was about 34,000 barrels per day in the second quarter, none of which was upgraded to synthetic crude, according to a US Securities & Exchange Commission filing.
Production in 2018 had averaged 44,000 barrels per day, composed of 42,000 barrels of crude oil and 9 million cubic feet of natural gas.
Those represented further declines from as recently as 2015, when output averaged 64,000 boepd.
Chevron said the carrying value of its investments in Venezuela was about $2.7 billion as of 30 June, though adding that the number was consistently under evaluation.
The company also said it had booked losses of $21 million in the first half for its share of income under the concerned equity affiliates. The company participates in joint ventures including Petroboscan and Petropiar.
Despite the obstacles Chevron said: "The company is conducting its business pursuant to general licenses and guidance issued coincident with the sanctions."
The Trump administration earlier this week recently further upped the ante on sanctions against the regime, aiming to block property and interests of the Venezuelan government on the US.
The latest measures come as Venezuela, despite having among the world's largest proven oil reserves, continues to face an ongoing crisis that includes hyperinflation, economic instability and acute shortages of electricity, food and medical supplies.
While many countries around the world have joined the US in backing opposition leader Juan Guaido, Maduro has held on against the pressure, backed by a close cadre of military allies as well as support from Russia, China and Cuba.
Venezuela's oil production has also been hard hit. The country was producing over 3 million barrels per day as recently as 2001, but in the wake of the Chavez and then Maduro regimes and the country's latest challenges, output has fallen to an estimated 830,000 barrels per day in April, according to the US Energy Information Administration.
Raul Gallegos, director at Control Risks, said on Twitter that the exception granted to keep Chevron operating in the country was expected and should not be seen as a lessening of the high-pressure campaign.
"The US doesn't want Russia/China to fully control (Venezuela's) oil sector," Gallegos said.