The United States and the Organisation of American States (OAS) on Wednesday added their voices to the mounting regional and international condemnation being directed to the Maduro regime over the illegal detention of Guyanese fishing vessels and their crew last week.
"The U.S. supports a peaceful resolution of the maritime boundary controversy between Venezuela and Guyana and condemns Maduro's intimidation through seizure of fishing vessels and detention of crew," tweeted White House Assistant Secretary Julie Chung. "We echo the OAS Secretariat's call for the release without delay."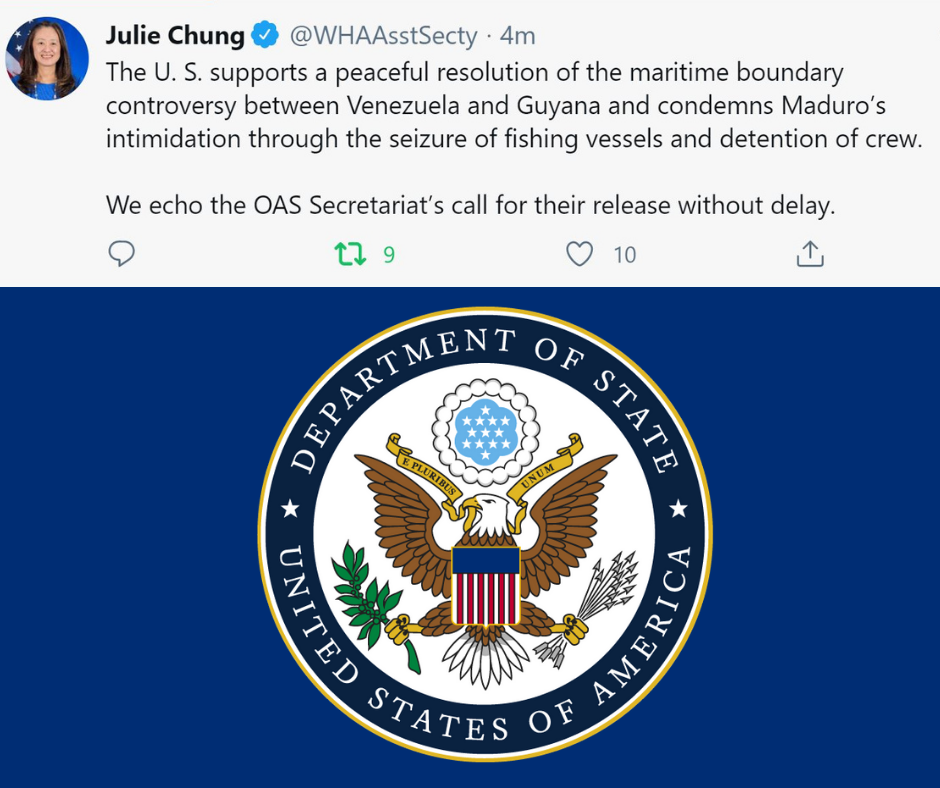 Meanwhile the OAS said it condemns the illegal detention "by the Venezuelan dictatorship" of the two Guyanese registered fishing vessels and their crew, "who were located within the Cooperative Republic of Guyana's Exclusive Economic Zone (EEZ)."
The General Secretariat said it "demands that the Guyanese citizens are released promptly and safely to Guyanese authorities, as well as the two detained vessels."
Moreover, the General Secretariat said reiterates its support for the rules and processes set by international law regarding ongoing territorial conflicts.
"The resolution of the territorial dispute between Venezuela and Guyana is a matter that lies under international jurisdiction, and cannot be settled by unilateral actions," OAS stated. "Any attempt to derail this international legal process, such as the decree issued by the Maduro regime, is contrary to international law and standards, and has no legal bearing or significance."
The condemnation from the OAS and United States also follows statements by the Caribbean Community (CARICOM) in which it expressed "grave concern" at the detention of the Guyanese fishing vessels.
"Recalling its statement of January 12, 2021 in which it had firmly repudiated any acts of aggression by Venezuela against Guyana, CARICOM urges the Government of the Bolivarian Republic of Venezuela to respect the sovereignty and territorial integrity of Guyana and to desist from aggressive acts that will seriously undermine the peace and security not only of Guyana and Venezuela but the entire Caribbean region," CARICOM said.
The regional body also called for the immediate release of the crew members and vessels.
On Thursday, January 21, 2021, the two vessels were intercepted by Venezuelan naval vessel Commandante Hugo Chavez GC 24, while operating off the coast of Waini Point at a position of N 80 49' 06"/ w 590 37' 40" W.
Reports also indicate that a third Guyanese fishing vessel – Miss Annie – and its crew was also intercepted and detained on Monday by the Venezuelan military.