With expanding crude production offshore Guyana at an unrivaled pace, builders of floating production, storage and offloading (FPSO) units are being pushed to add higher capacity vessels to their portfolios.
MODEC and SBM Offshore have both been entrusted by ExxonMobil Guyana to deliver floaters that will produce 250,000 barrels of crude per day (bpd) each in the Stabroek Block. A perusal of the portfolios of these companies will show that neither of them have delivered FPSOs targeting oil production at this level before. However, it is notable that the Liza Unity FPSO in Guyana, with a design rate of 220,000 bpd, will be debottlenecked later this year to produce 250,000 bpd.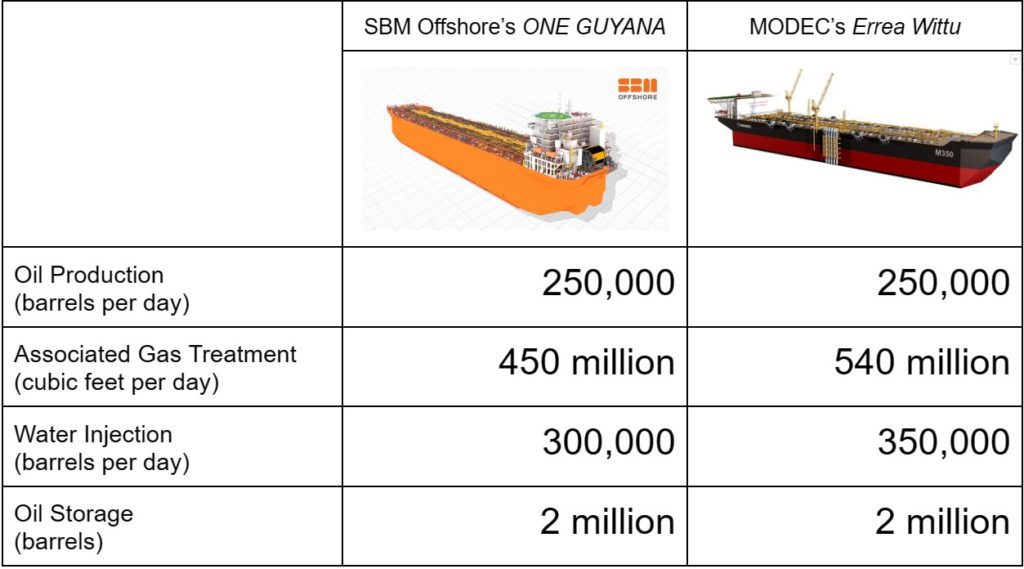 These FPSOs will be giant, by industry standards. Plans for production ramp-up offshore Brazil are also leading to orders for large FPSOs with design rates above 200,000 bpd.
The giant FPSOs being ordered by Exxon for Guyana are consistent with the major's plan to target larger developments in the Stabroek Block, where it has been able to bring two projects to first oil in just a few years, at enviable breakevens. This is consistent with the government's depletion policy to get as many barrels out sooner, ahead of the energy transition. The projects are also advantaged because they are meeting energy demand with lower emissions intensity. Rystad Energy has said Guyana's developments are among the best performing in the world in terms of emissions intensity, outpacing 75% of global oil and gas producing assets.
SBM Offshore formed a special purpose joint venture with McDermott, under which the latter has 30% equity ownership, to deliver the ONE GUYANA FPSO for the Yellowtail project. MODEC also formed a joint venture called Offshore Frontier Solutions Pte. Ltd., with a 35% stake owned by Toyo Engineering Corporation. When it announced the launch of this JV in August last year, MODEC said it is purposed to execute "challenging large-scale FPSO projects". The Errea Wittu FPSO, to be utilised for the recently approved Uaru project, will be MODEC's largest yet.
In March, the ONE GUYANA FPSO entered drydock at the Keppel yard in Singapore. Stabroek Block co-venturer Hess revealed during a Q1 earnings call in April that the project is 45% complete. ONE GUYANA will be instrumental in making Guyana's crude output the world's highest per capita in 2025. Errea Wittu is expected to achieve first oil in 2026, with total production offshore Guyana surpassing a million bpd.
ExxonMobil is the operator of the Stabroek Block, with a 45% stake. It is supported by Hess (30%) and CNOOC (25%).