Guyanese onshore will now have an opportunity to see first-hand a sample of the black gold being produced 120 miles off of its coast that is set to change the course of the South American country's history.
The Department of Energy (DE) in partnership with the Department of Social Cohesion, Culture, Youth and Sport and ExxonMobil Guyana, on Thursday celebrated the launch of Guyana becoming a petroleum state with a ceremony to open the first National Oil Exhibit at the National Museum in Georgetown.
"Everyone needs to be excited about this and to understand what is happening and to think about how to make the best use of the window opening to us. Already, the sector has witnessed foreign direct investment (FDI) in excess of US$500 million, the creation of over 1,700 jobs directly related to the sector, benefits derived from over 600 service providers, and the establishment of over 70 joint ventures, alliances and partnerships which continue to increase," Dr. Mark Bynoe, DE Director said.
Just days ago, ExxonMobil said in a press update that the first drop of oil to be taken from the Liza field was received and tested by a young Guyanese technician, Shivnarine Outar.
The US oil major announced the giant Liza discovery on May 20, 2015, after the well was drilled at the Stabroek Block to a depth of 17,825 feet (5,433 meters) in 5,719 feet (1,743 meters) of water, encountering 295 feet (90 meters) of high-quality oil-bearing sandstone reservoirs. ExxonMobil is operator at the Stabroek Block with 45% interest. Hess (30%) and CNOOC (25%) are co-venturers in the 6.6 million acres block.
The museum exhibit includes newspaper headlines published in Guyana after the discovery was announced and those published after first oil production from the Liza field took place on December 20, 2019. It also includes a model of the 120,000 barrels per day Liza Destiny FPSO, safety coveralls worn on the vessel, and a recent book on the History of Guyana's Oil Exploration, which began in 1750, produced by the University of Guyana's Energy Think Tank.
"We hope this exhibit will strike a chord with school children, with parents and teachers and with all Guyanese who come to visit. I am sure that for many, the giant Liza Destiny vessel is as hard to image as the giant sloth [displayed at the museum) just a few rooms away," Rod Henson, President of ExxonMobil Guyana said.
The Liza Destiny is now spread moored at the Stabroek Block in water depths of 1,500 to 1,900 meters and will hold this position for the next several decades, as oil production at the Liza Phase 1 Development progresses. The vessel was built and is being operated by Dutch floater specialist, SBM Offshore.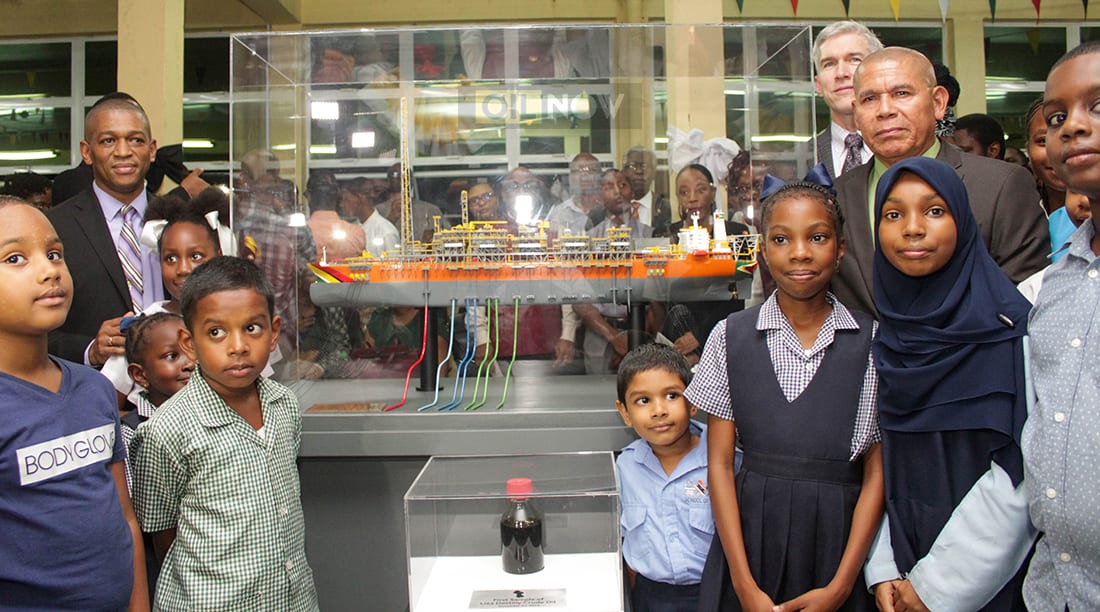 Celebrating with selfies
It was also announced at the ceremony to open the exhibit that the public has a chance to own one of 10 first oil collector's vials of oil as well as many other prizes in a Department of Energy selfie competition. All persons are required to do is to snap a selfie or photo of themselves or group of friends and family in front of any part of the first oil exhibit and post to their FB page and tag it to the Department of Culture and the Department of Energy. The photos with the highest number of likes or shares win. Up to 500 prizes are available for grabs from photos taken and posted. Other prizes include caps, t shirts, bottles, books, and folders. Winners will be notified, and prizes will be handed over at the museum on February 14, 2020.