Hope Energy Development Inc. (HED) has submitted an Environmental Impact Assessment (EIA) for the construction and operation of the first large-scale wind farm in Guyana along the East Coast of Demerara.
The Hope Wind Farm Project base-case scenario proposes the construction of four wind turbines along the coast at the Hope Beach location, outboard of the Lowland/Hope to Ann's Grove Villages.
The Project has secured a land lease comprising a total area of 27.057 acres, registered with the Guyana Lands and Surveys Commission, for a term of 50 years which commenced on January 1, 2007. It is intended to be used for Industrial Purposes, specifically the establishment of a wind farm for the generation of electricity.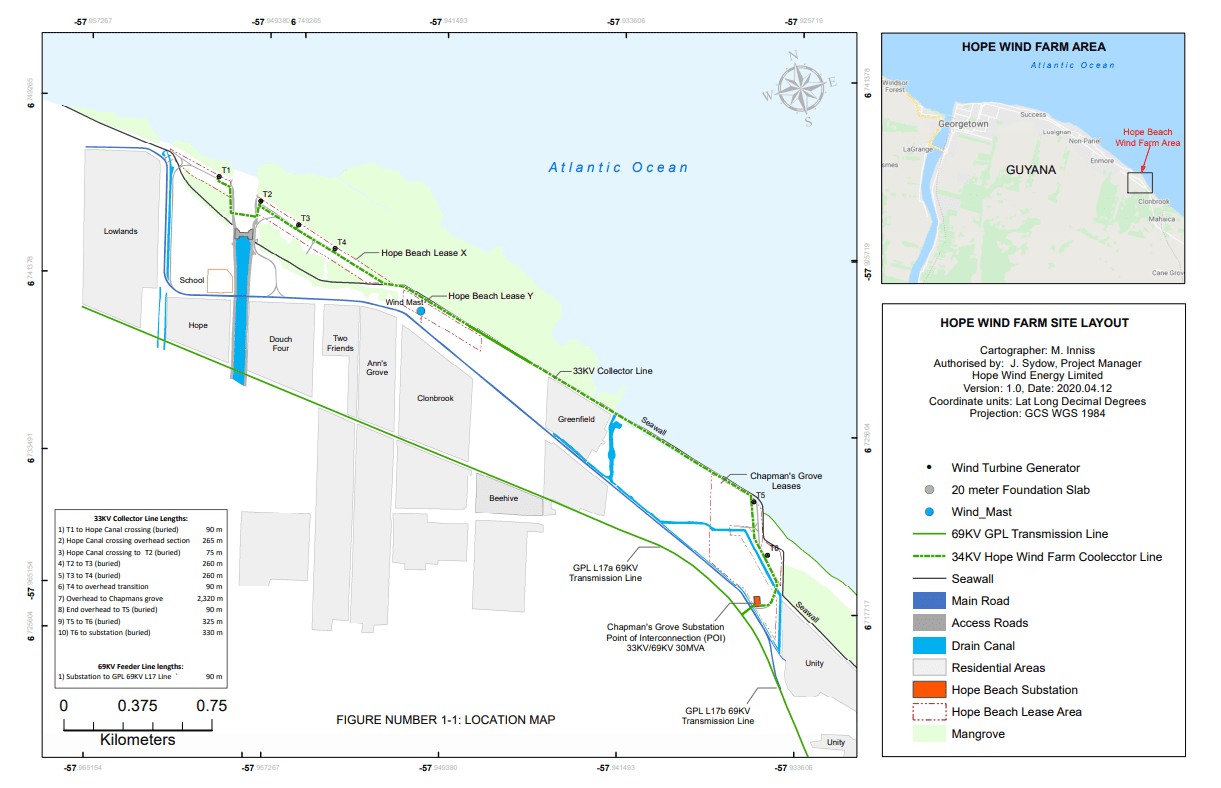 Additionally, HED has obtained an option to lease private agricultural land in the Chapman's Grove area, 2km further to the southeast for the location of two wind turbines and required access roads and infrastructure.
"The proposed Hope Wind Farm would be the first large scale wind energy facility to be constructed in Guyana," HED said in the EIA document submitted to the EPA. "The base-case scenario calls for 6 wind turbines, each at 4.2MW capacity, located at Hope Beach and Chapman's Grove for a total 25.2 MW wind farm capacity."
A review of the Project Description submitted with the application highlights a number of critical environmental concerns that stem from the relatively close proximity of the wind farm to nearby residential areas and the Hope Secondary School. Noise Emissions, Shadow Flicker and Safety Offset Distance are the areas of particular concern given the nearby community that must be specifically addressed during the initial phase of the EIA studies.
HED is joint venture project development company with three partners – SPI (Denmark and Colombia), Innova Energy Ltd, Trinidad and Total Energy Solutions Inc, Guyana.
The EIA consultant is Trinidad-based Ecoengineering Consultants Limited which offers Consulting Services in Environmental Engineering and Science throughout the Caribbean Region.
The EPA said in a notice that members of the public are invited, within a period of 60 days, to review the EIA report and make written submissions to the Agency, as they consider appropriate.