With 11 billion barrels of oil equivalent (boe) unlocked in the Stabroek Block, there is an urgent need for Guyana to be outfitted with facilities to support the development of this massive resource base. These include laydown yards, deep water ports, waste treatment facilities, and shore bases.
The state requires appropriate human resource capabilities to manage the fast growing sector. Environmental considerations are key to the government's ambitious goal of responsibly producing oil and gas while committing to low carbon development.
The man who must ensure each project passes the litmus test of environmental soundness is Kemraj Parsram, Head of Guyana's Environmental Protection Agency (EPA). Parsram, a level-headed team leader and visionary, remains averse to leading such a critical sector, or any other for that matter, with the proverbial "big stick." He believes environmental preservation and protection can and must co-exist with development pursuits.
In his exclusive sit-down with OilNOW, Parsram got candid about some of the pit stops that fashioned his leadership mindset at the EPA.
The Scorpio-born lover of cricket was born to Parasram and Ishwarie Parasram on October 24, 1975, in Dowding Street, Kitty. His parents were avid enablers of his academic success, be it at Rama Krishna Primary School or when he proceeded to Queen's College in 1987. By that year, he said his family had moved from Georgetown to Annandale on the East Coast. There, he would spend most of his teenage years.
"My dad was an accountant at Sprostons' [Guyana National Industrial Company] and my mom was a housewife. Both became traders after my dad left Sprostons. This meant that they travelled a lot… So, it was my aunts and uncles who took care of me along with a tight-knit community in a Baptist Church, though my parents are Hindus."
He was 13 years old at the time he joined the Church but stressed that it was integral in shaping much of the values that form the bedrock of his life today. He said, for example, that the roots of his reverence for teamwork at the EPA, as well as his affinity for academic excellence, can be traced back to that spiritual institution.
"Those guys and women there actually moulded me into what I am today… They really nurtured me and encouraged me to be excellent. Even with [secondary school exit exams], they helped me with studying. Back then, there was no fanfare about writing many subjects. I wrote five subjects at the time, and they were happy for me. I was encouraged to move straight to the University of Guyana (UG)."
Being the offspring of an East Indian-Guyanese home, Parsram said there was an obvious expectation that he would study to become a doctor or a lawyer. His path, however, would take him far from the court or operating rooms. A freshly minted 17-year-old at UG, Parsram said he was too young to enter the medical faculty. He had to be at least 19. Still hoping to please his parents, Parsram made the decision to do a Diploma in Forestry. He would, to his mind, be using his time constructively as he waited to qualify for medical studies.
"Lo and behold, when I joined that programme in 1992 and they took me to the forests, it was one of the most mesmerising experiences of my life. Our forests have a spellbinding beauty; the sounds of animals and mighty creeks, the fog, the greenery… I realised right there that this is what I love, this is me. I connected with nature deeply. It was an awakening."
Parsram finished his Diploma in the Forestry Programme, and as faith would have it, an Environmental Studies Programme started at UG. Parsram plunged right in. There was no turning back from the forests' imprint on his soul.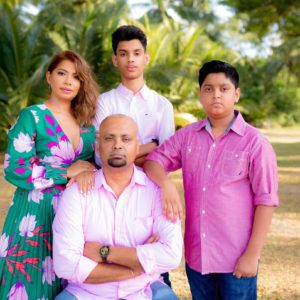 The father of two boys recalled enjoying the new programme, adding that he also held a part-time job as an environmental officer at a small department of the Office of the President. He recalled that what was then the Guyana Agency for Health, Environment and Food, was located on the East Coast corridor.
Their most critical responsibility at the time was overseeing the infamous Omai Gold Mines. Unfortunately, in August 1995, the tailings dam at the Omai Mines failed. This led to mine tailings containing cyanide, heavy metals, and other pollutants spilling into the Essequibo River. Parsram shared that this environmental disaster was not only devastating for the country but represented a tectonic shift in how authorities had to be prepared for such eventualities. In fact, Parsram said it was that disaster that prompted the establishment of the EPA in 1996.
After completing his Bachelor of Science in Environmental Studies in 1998, Parsram said he went on to do a year of management training at the Guyana Forestry Commission (GFC) where his knowledge of Guyana's pristine forests deepened. Following this, he returned to the EPA, previously housed at the Institute of Applied Science and Technology (IAST) at UG, to serve as an Environmental Officer.
With his eyes still fixed on his upward academic mobility, Parsram said he moved on to the University of the West Indies, Cave Hill Campus, where he successfully acquired his Master of Science in Natural Resources Management (2001-2003).
While there, Parsram shared that he had joined the Caribbean Conservation Association (CCA), the region's premier conservation group. There, he spent three years, amassing regional experience in managing biodiversity and fisheries.
He also spent another year expanding his knowledge through an array of consultancies. Parsram said a PhD opportunity became available in 2008 for Marine Resources Governance at the University of the West Indies, Barbados.
"I did all my fieldwork in Grenada, St. Lucia, and Antigua. But from 2012 to 2013, the position for a Director to establish a Monitoring, Enforcement Unit came up at the EPA. I applied and fortunately got through. I thought I could do the job and my thesis at the same time, but that plan did not work out. Time ran out on me as I got immersed in giving of myself to the job," expressed the EPA Head.
Parsram said he served as the Compliance and Enforcement Director from 2013. He also acted as Executive Director during the period December 2016 to October 2018. It was subsequently taken over by his predecessor, Dr. Vincent Adams. In 2021, Parsram was reappointed to the post.
Parsram said he has no regrets about the twists and turns his academic journey took as it provided critical opportunities for him to connect with Mother Earth from different vantage points. He said his academic journey has also afforded him opportunities to network and build international experience that now serve his agency, and country by extension. He was also keen to note that his accomplishments would not have been possible without the support of his life partner and dedicated wife, Kavita.
"I believe my journey has provided me with the wisdom, the value system, and the humility needed to discharge my responsibilities at this historic juncture of our country's development. The EPA has a strong bible to guide it in the form of legislation and we have used it to effectively balance the sustainable management of the environment while encouraging development. Those two things are not mutually exclusive, and that principle has been with me since my days at UG," the EPA Head expressed.
As a result of his prudent management and shrewd leadership, Parsram said the EPA has been able to transform its systems and even grow its trust fund to over GY$2 billion. Prior to 2020, it was in the range of GY$150-200 million. He said too that the government must also be commended for providing more resources for capacity building. He highlighted for example that the capital budget for 2022 was GY$150 million when, prior to 2020, it ranged merely between GY$5 million and GY$20 million.
"With additional resources from the government to expand our facilities, train our people and hire experts, we are able to better execute our mandate. I am ecstatic about that as it will enable us to provide world-class regulation for our growing industries in the years to come," Parsram concluded.
MAJOR ACCOMPLISHMENTS
In two years, Parsram has led several major reforms at the EPA, including the strengthening of environmental permits for the oil and gas sector. In fact, all permits issued to producer, Esso Exploration and Production Guyana Limited (EEPGL), are armed with international standards for monitoring and management of any impacts affecting biological, physical, and socio-economic resources. They also include targeted and updated environmental baseline studies.
Importantly, the permits issued to EEPGL require a Parent Company/Affiliate Guarantee. It is proposed to be as much as US$2 billion. A US$600 million per occurrence coverage is already in place to cover clean-up costs for spills.
Significantly, the EPA has been able to strengthen its monitoring and compliance capabilities through remote real-time monitoring for Guyana's oil industry. This involves the use of key environmental sensors such as air quality, water quality and satellite imagery.
EPA staff have also benefited from training to improve their abilities to interpret satellite imagery and conduct physical inspections. OilNOW understands that a dedicated training arm of the Human Resources Department has been established for this purpose.
Parsram has assured that 2023 will continue to see more innovative reforms for strengthened regulation.