Excitement was high on Saturday at the head office of El Dorado Offshore (EDO) in Georgetown, as another batch of Guyanese workers prepared for the 120-mile journey offshore to the Stena Carron Drillship.
Stena has selected 12 Guyanese nationals through its Manpower Provider; EDO, to fill the posts of Radio Room Administrative Operators, Painters and Stewards. Five have already been through offshore safety training in Trinidad and another seven completed their training last week.
EDO, a Guyanese resource company, is providing manpower services to the oil and gas industry in partnership with Trinidad and Tobago-based, Ramps Logistics.
OilNOW spoke with some of the newly trained workers gathered for the farewell on Saturday.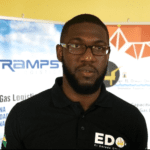 Yerrodin Bowen said he was excited about going off to work on the Stena drillship and believes the involvement of Guyanese labour bodes well for the country. "It is good to see Guyana going in this direction. For me personally, getting on the ship is an exciting thing and it's an experience I am looking forward to, definitely."
Another new recruit, Joel Sutherland, described the hiring of the first
set of Guyanese to work offshore as historical and said he was extremely happy to be part of the second batch destined for the Stena. "First of all, this is a history for Guyana and a history for the local working force…We know ExxonMobil is number one in the world for oil producing and this is a great opportunity for Guyana…It's a great opportunity for me, and I am happy to go on-board the ship."
A number of officials who were on-hand Saturday to bid the second batch of workers farewell, spoke with OilNOW.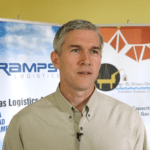 Country Manager of ExxonMobil Guyana, Rod Henson, said utilizing persons from the local workforce is another example of how the company is meeting its commitments with its service company providers. "It's a very exciting time today. We're celebrating sending off another group of local Guyanese talent off to the Stena Carron Drillship," he said.
"The oil and gas industry; we are gonna be here for decades, so it's very important we start building this industrial base, this talent pool…," Mr. Henson added.
Chris Hutton, Stena Carron's Regional Manager, arrived in Guyana on Friday and was happy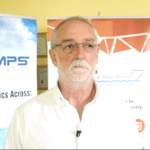 to be part of the team meeting with the second batch of recruits prior to their departure.  "I am very proud of it and so is Stena. We like to try and develop in the local community wherever we work," he said. The first group currently working offshore has been doing well, he pointed out, so Stena is looking forward to this second batch.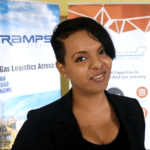 Meanwhile, EDO's Country Manager, Kerri Gravesande, said she is proud, as a Guyanese, to be playing a key role in the efforts to provide local labour to the country's emerging oil and gas industry. This, she said, is something that she and the entire EDO and Ramps Logistics team are excited about. "We at El Dorado and RAMPS Logistics are actually very, very proud of this moment. This is history in Guyana."
Khamroy Hobaichan, Ganesh Parmanand, Brady Trim and Preston Fredericks boarded their first helicopter and made their way to the Stena Carron on July 6. The remaining candidates Yerrodin Bowen, Joel Sutherland, Gairy Christain, Richard Davis, Vivian Bowling, Odeda Roberts, Sean Savory and Mark Woodroffe are scheduled to board the rig on July 16, and in the following week.