ExxonMobil Guyana asserted on Tuesday that the South American country has made steady progress in the expansion of the nation's capacity to build a skilled workforce and create a competitive supplier base to support its oil and gas operations.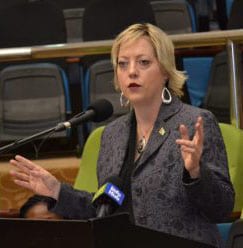 The company's Area Procurement Manager, Tara Clinton told participants at the five-day virtual Guyana Supplier Forum 2021, "…We've seen Guyanese take this very seriously and move to a different direction in safety and quality and performance and we believe we will continue to see more and more of that where a new standard becomes sort of the ground piece for everybody and we continue to see an evolution."
She added that it is important for ExxonMobil to see new partners rise up and meet higher standards and achieve a new level of competitiveness that will last for the longer term.
"We are pleased…we see new partnerships; we see new capacity building; we see more robust local content plans as we review both RFIs (Requests for Information) and bids. So, I definitely think we have seen growth…." she said.
Meanwhile, the company continues to work closely with the Centre of Local Business Development to ensure that the country's skills pool and supplier base become progressively competitive by global standards.
The Centre—which hosted this week's supplier forum with sponsorship from ExxonMobil Guyana and Stabroek Block co-venturers, Hess and CNOOC—continues to play a pivotal role in building the capability of Guyana's workforce up to international oil industry standards.
Clinton noted that the Centre's database serves as an invaluable guide to the oil company as it monitors the number of new registrations and their industry credentials to gauge how the local content landscape is evolving and moving.
Disclosing that there are now over 800 Guyanese vendors supporting the company in various sectors, Clinton said ExxonMobil Guyana takes pride in the number of suppliers and vendors it has been able to work with throughout the entire supply chain.
According to Clinton, ExxonMobil's commitment to Guyana's local content development is not confined to helping Guyanese to win contracts in the oil and gas sector but also to achieve contract success and world-class competiveness.
Describing the enabling process, Clinton said, "Succeeding at a contract is the ultimate goal…so it starts with the onboarding kickoff that we have with all willing suppliers to talk about how we are going to operationalize that contract; our understanding of how it's going to start, how it's going to run, our expectations throughout that contract and then staying in touch and working with companies."
From a technology standpoint, she said ExxonMobil also looks at the robustness of prospective contractors' training programs and safety programs and determines if there is an appropriate learning curve. In this regard, the company wants to increase local firms' capacity to improve from qualifying for small contracts to being able to bid for larger ones.
ExxonMobil will continue to maintain certain standards to ensure safety and integrity in the licensing process, she explained.
"We have used a lot of those proven standards around the world that not only enabled us to meet timelines and fulfill certain goals and targets and obligations but also know we could have confidence to run that long term at lower cost and a more effective and efficient way," Clinton said.
She noted that the creation of a healthy, competitive Guyanese supplier base is important to the company.