ExxonMobil affiliate, Esso Exploration and Production Guyana Limited (EEPGL) is making it clear that Guyana will not be left to handle the decommissioning costs associated with the multibillion-dollar Stabroek Block projects. Decommissioning encompasses the safe dismantling of the project infrastructure at the end of the development's life cycle.
The assurance was provided on Wednesday by EEPGL's Vice President and Business Services Manager, Phillip Rietema.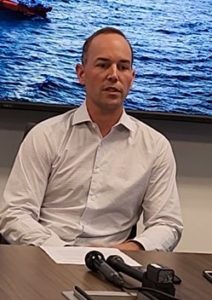 "Decommissioning costs are a very important aspect of our business… They take place 20-30 years from now, so it's important that we plan for those under the accounting rules. Each year we have to put aside a small amount as we build up to that future value," he said.
He pointed out that the company estimates what the value will be in 20 or 30-years' time, using the best information available, and this in turn is reflected in its financial statements.
Exxon finally hits pay; records first profit in Guyana after 23 years
"ExxonMobil and our co-venturers are responsible for those decommissioning costs, and it is important that over time we put the structures in place to ensure that we can pay for those costs," Rietema stated.
He further pointed out that a Decommissioning Security Agreement is being drafted which will set the principles by which the Stabroek Block co-venturers will set aside the funds to pay for the decommissioning expenditures and to ensure that all the funds are in place to pay for the costs when they are incurred a couple decades from now.
When asked who would carry the cost if unforeseen circumstances led to a halt in operations, thereby requiring decommissioning activities to be undertaken now, Rietema made it clear that Exxon would ultimately be responsible.