ExxonMobil affiliate, Esso Exploration and Production Guyana Limited (EEPGL), will be seeking a dismissal of a case brought to Guyana's High Court which seeks to strike out tax waivers granted to it, its co-venturers and sub-contractors under the Stabroek Block Production Sharing Agreement (PSA).
The case was filed by newspaper publisher, Glenn Lall, and is being presided over by Justice Nareshwar Harnanan.
Lall claims the contract is inconsistent with some Guyanese laws, including anti-discrimination laws, and takes issue with the fact that the waivers also apply to sub-contractors.
EEPGL President, Alistair Routledge, argued in a March 31 affidavit to the Court that Lall's case is "misconceived, without merit, and ought to be dismissed…"
In addition to his rebuttals to Lall's arguments on the tax provisions, Routledge said that EEPGL has already invested considerable sums into its work on Stabroek Block projects. This includes US$4 billion and US$6 billion on the ongoing Liza Phases One and Two projects and a projected US$9 billion to develop the Payara project.
Routledge said from the effective date of the PSA on October 7, 2016, EEPGL and its co-venturers have incurred and spent over US$13 billion on the projects as well as exploration, development and production activities.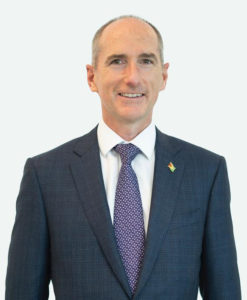 "If the reliefs sought by the Applicant are granted, it would be inconceivable that the projects could be carried out by Esso in the form they are designed," Routledge said. "There would be billions of $US dollars in additional costs which could well make the projects uncommercially viable or infeasible."
He further contended that striking out the tax provisions would be unconscionable, since EEPGL spent years making huge investments on that basis, which could now be wasted.
Lall had brought the case against the Attorney General of Guyana, Mohabir Anil Nandlall, who represents the government. The PSA was granted by the Guyana government in 2016, though not under Nandlall's administration.
EEPGL asked to join the case, several weeks ago, as an added respondent.