Ahead of construction of a pipeline as part of the landmark gas-to-energy project in Guyana, ExxonMobil is looking for a consultant to conduct a survey. In a public request for information (RFI), the company's local affiliate, Esso Exploration and Production Guyana Limited (EEPGL), said it plans to install an onshore pipeline of about 25 kilometers, on the west side of the Demerara River, Region Three.
The pipeline will begin from the shore, where it will connect to the offshore pipeline, and extend to the Natural Gas Liquids (NGL) Plant at the Wales Development Zone (WDZ).
The scope of the survey that EEPGL is looking to contract include identifying, physically marking and documenting the proposed onshore pipeline centerline and drill locations. The surveyor(s) would have to identify and document all large obstacles, such as roads, canals and utilities.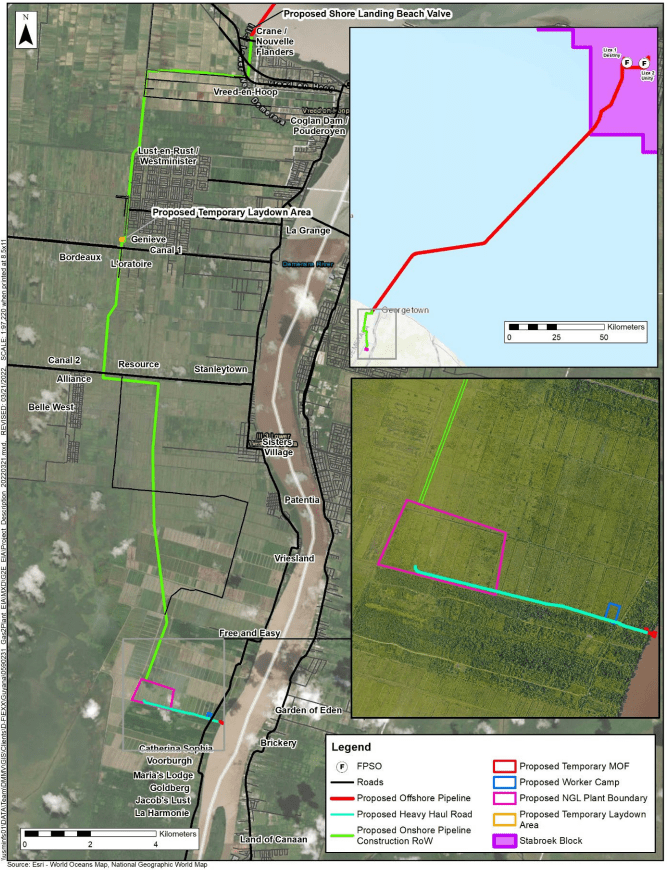 EEPGL noted that its local content strategy, which is important to its business, is integrated into its daily processes and procedures, and guides the way it plans. The company's operations are also expected to be consistent with requirements of Guyana's newly passed Local Content Act.
The deadline for suppliers to submit information is April 27, 2022.
The pipeline, both on and offshore, will require an estimated US$1.3 billion investment by EEPGL, according to the environmental impact assessment which was published by the Environmental Protection Agency (EPA) on Wednesday.
The company seeks environmental authorisation for the laying of the pipeline. Ahead of this, EEPGL has already started preliminary works, which include repairs of bridges and roads along the West Bank of Demerara (WBD) public road, to provide improved vehicular access and enhanced safety for residents in the area.
The pipeline is being built to transport 50 million standard cubic feet of gas per day from ExxonMobil's Liza field for delivery to the NGL Plant and Power Plant which the government is responsible for building.
Gas-to-energy is regarded as a game-changing project for Guyana's energy sector.