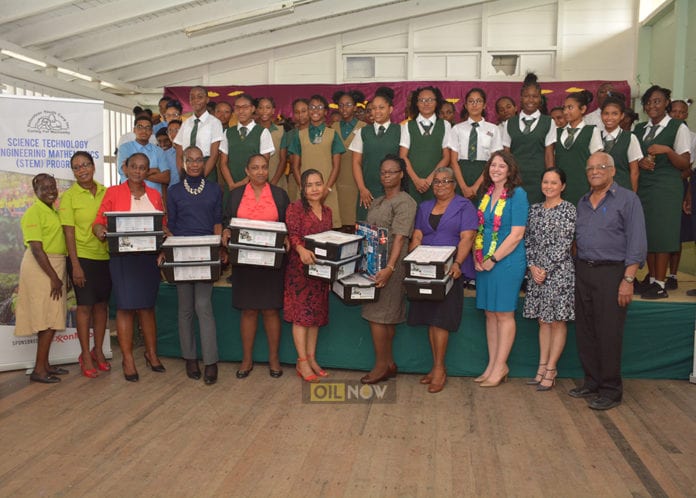 In its continued effort to support the advancement of STEM—Science, Technology, Engineering, Mathematics—education, ExxonMobil Guyana has provided funding which has enabled six secondary schools in the country to be equipped with robotics kits.
Through a partnership with Volunteer Youth Corps, the oil company presented two kits to each of the six schools on September 12, during a simple handing-over ceremony at the Richard Ishmael Secondary School, in Guyana's capital, Georgetown.
Chief Executive Officer (CEO) of Volunteer Youth Corps, Ms. Goldie Scott, enthusiastically shared, "We are excited about this opportunity to hand over robotics kits to aid in the preparation of students for our annual stem challenge, dated for November 30, 2019."
She indicated that at least four of the schools participated in the last robotics competition, noting that these schools have afterschool robotics programmes. "Today, we officially want to provide kits in the schools to support innovation and creativity," she said, later adding, "We want to ensure that they have the technology to use. While this is a start, in the handing over of two kits to each school, we would like to provide much more kits."
Speaking on the partnership with ExxonMobil, she reminded that the company has been playing a key supportive role for about seven years. "They have been supporting our programmes since 2012 and this is about the seventh or eighth year since we've been funded to provide afterschool STEM Education at the schools," she said, adding that Volunteer Youth Corps is excited about the partnership since the STEM programme has resulted in improved student performance.
Meanwhile, ExxonMobil Guyana's Senior Director, Public and Government Affairs, Deedra Moe, told the gathering that STEM education has become increasingly essential for development. "ExxonMobil Guyana recognizes that supporting and empowering youth are essential," she said, while stressing that the youth are the leaders of tomorrow who will be needed to find solutions for some challenging problems.
"Robotics can be a foundation for students to realise their passions, learn to communicate across different technology platforms, enhance team-building, and community involvement. Since my arrival in Guyana over a year ago, I have been able to witness the positive impact that STEM has had," Moe stated, as she pledged her company's continued commitment to supporting education in the South American country.
Since 2012, more than 3,000 students have benefited from ExxonMobil's continued support for STEM education in Guyana, which has seen the company plugging an additional GY$20 million more into the programme this year.