US oil major ExxonMobil said it remains committed to working with local companies in Guyana to help build their capacity so that they can better serve the growing needs of the country's emerging oil and gas industry.
The company began producing oil in Guyana last December at the Liza phase 1 development and has sanctioned two other projects – Liza Phase 2 and Payara – which are set to come stream in 2022 and 2024, respectively.
"As a new industry to Guyana the country does not necessarily have the supply chain, the facilities, the skills and even the equipment that's needed to support our industry," said Alistair Routledge, President of ExxonMobil Guyana. "It's an industry that is very high standard for obvious reasons…very high standards in safety and environmental performance…so what we find is that we need to work with the local companies in order to help them to learn what those standards mean and to achieve them."
Routledge pointed to the establishment of the Centre for Local Business Development to build local capacity and prepare Guyanese companies for opportunities in the industry. He said ExxonMobil Guyana is also collaborating with training institutions to ensure that they are able to prepare persons for careers in oil and gas.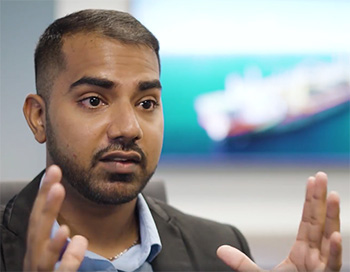 ExxonMobil Guyana's Local Content Advisor, Devon Seeram, said the company has been placing heavy emphasis on building local capacity and this will have a positive long-term impact on the ability of Guyanese companies to compete for opportunities in the industry. "For us we emphasize workforce development and supplier development, which in turn is actually local content development to up-skill Guyanese and put them in a better position to capitalize on those opportunities that come from our operations in Guyana," he said. "I am confident with the efforts from the different projects and initiatives that we are putting forward for business development and for workforce development in Guyana, I believe truly that we can see real long term benefits through local content, for wider economic development," Seeram said.
The Local Content Advisor said a truly effective local content policy or legislation must be fit for purpose and not copied wholesale from another country with different characteristics and which is at a different stage of its petroleum sector development. "Countries are different… they are at different stages of [supply and workforce] development. They generally have different skills. So, we have to have something that is fit for purpose," Seeram emphasized.
As of August 2020, ExxonMobil Guyana had more than 2,000 Guyanese supporting its operations in the South American country, representing 55 percent of the total workforce.
By then too, the company's direct workforce grew to 155, more than 50 percent of which are Guyanese who received more than 100,000 hours of training as of the first half of 2020. Approximately 80 percent of that training was in the areas of Professional/Technical and Craft/Trade. Further, more than 50 Guyanese have trained internationally in countries such as Brazil, Canada, Singapore, Trinidad, United Arab Emirates and United States, to gain hands-on oil and gas experience.