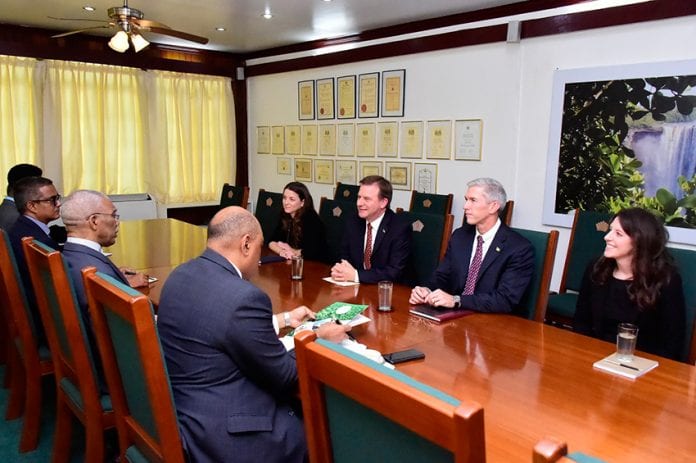 Guyana's President David Granger, on Thursday, received a courtesy call from Senior Vice President of Exxon Mobil Corporation, Neil Chapman, who is in Guyana to familiarise himself with the operations, having recently taken over responsibilities for the global upstream oil and gas operations at the Corporation's headquarters.
According to a press release from the Ministry of the Presidency, the two sides discussed matters related to the status of exploratory and development work as well as the relationship between the Government and the company. The meeting was held at State House in Guyana's capital, Georgetown.
President Granger said that at the end of the process, Guyanese must be able to view the development of a petroleum industry as one that is beneficial to the national interest as he noted that the Government will be working with ExxonMobil to develop a long-term relationship.
Mr. Chapman in an invited comment said that the meeting was productive and he looks forward to building on the relationship, which was established three years ago.
"We talked about the oil development offshore with what's taking place right now. We updated the President on not just what is taking place today, but where we see the development going in the future. We are very positive about the relationship between ExxonMobil and the country. We are very pleased with the developments; we are very pleased with the exploration, but the benefit for this is not just for ExxonMobil. It is for the benefit of the country and that is what we talked about; how this will benefit the country going forward," he said.
The meeting was also attended by Minister of Natural Resources, Raphael Trotman on the Government's side while ExxonMobil's executives present at the meeting were Rod Henson, Country Manager, Kimberly Brasington, ExxonMobil's Guyana Senior Director of Public and Government Affairs (outgoing), Deedra Moe, ExxonMobil's Guyana Senior Director of Public and Government Affairs (incoming), and Carlton James, Director, Government Relations, Guyana.