Guyana trailed behind only Mexico and Brazil, holding the third slot as the country with the highest total value of foreign direct investment (FDI) project announcements for 2022 in Latin America and the Caribbean.
Outlined in the new United Nations Economic Commission for Latin America and the Caribbean (ELAC) report, Mexico's growth was a whopping 135%. Guyana's growth was a result of its hydrocarbon success.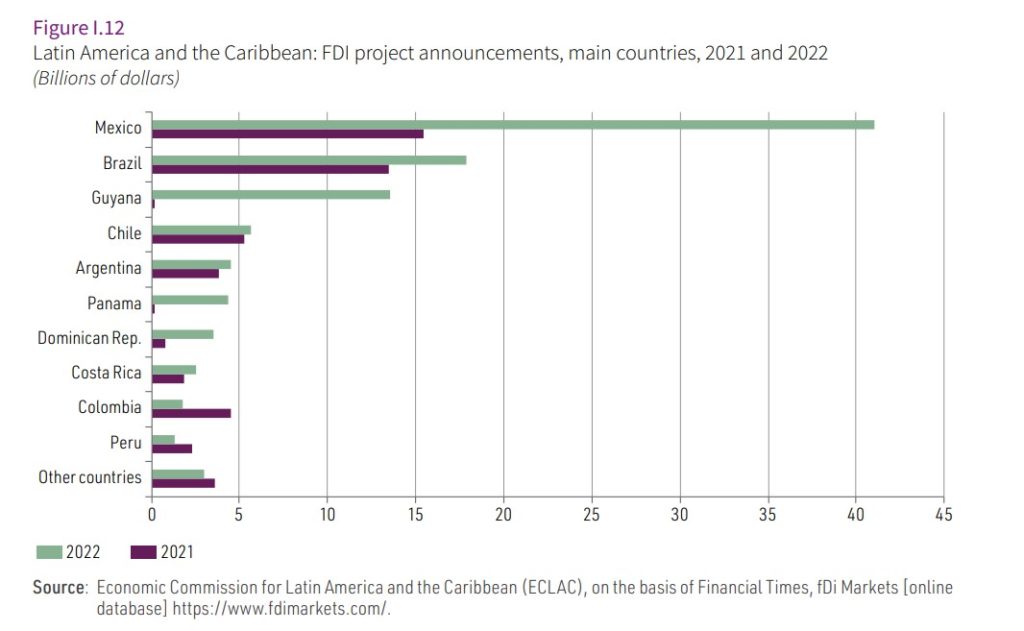 "In fact, six investment projects in Guyana were announced in 2022, including an oil…project announced by the United States company ExxonMobil for US$10 billion. To give an idea of the size of these projects with respect to the country's economy, in 2021 Guyana had a GDP of US$6.816 billion and a population of 800,000 (CEPALSTAT, 2021)," the ELAC report read. 
Clear line of sight for Stabroek Block to hit 1.3 million bpd by 2027 | OilNOW
In South America, ECLAC said significant increases in FDI project announcements were recorded in Brazil (33%) and Argentina (18%). But growth in the subregion was just 11%, well below that recorded in Central America and the Caribbean.
The value of announcements declined in Colombia, Peru, Ecuador, the Plurinational State of Bolivia and Uruguay. Although the number of announcements in Colombia rose by 9% from 2021 to 2022, ELAC said that the amounts of announcements fell by 60%. The number and amounts of announcements also declined sharply in the Plurinational State of Bolivia and Peru.
According to the report, the value of the announced projects was primarily concentrated in large projects in oil and gas, mining and renewable energy sectors. Fourteen projects had a value of at least US$1 billion. These megaprojects accounted for 41% of the total investment, and 80% of the total amount of the announced projects came from the 170 largest projects. In the case of smaller projects, approximately two-thirds of the 1,413 identified had a value of less than US$20 million, and 98% of the projects did not exceed US$400 million.
Guyana's hydrocarbon success is mainly driven by Exxon and its Stabroek Block partners that have racked up over 30 discoveries. After the Yellowtail project, which was sanctioned in 2022, the US$12.7 billion Uaru project has since been sanctioned. Two more – Whiptail and Fangtooth – are being planned.
Exxon is also pursuing a massive Gas-to-Energy project in the small South American country.