GAICO Construction and General Services Inc. started from humble beginnings; with a little bobcat doing small-scale construction. But now, the company has blossomed into a large-scale venture plugging millions into Guyana's development.
Its latest contribution is the acquisition of the Malavi-Hopper Dredge, to the tune of US$7.5 million, officially commissioned on Saturday at the company's Nismes, West Bank Demerara wharf.
Though starting with construction, GAICO has been in the dredging business since 2010, explained Chief Executive Officer Komal Singh, as the need for deeper channels became evident.
Singh was keen to note however that the dredging industry was put on the backburner for a few years, but now reinvigorated because of Guyana's oil and gas succession. This was the thinking behind GAICO's decision to add the Malavi-Hooper to its fleet.
The "bold investment", Singh said, was made possible through the government's unwavering support for the private sector.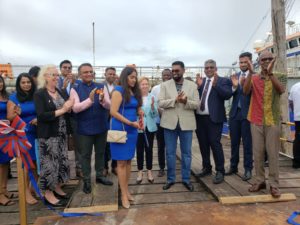 "We have a government that sees the need for getting the private sector up to speed, so that they can be the true growth engine for the development of our country," he told the gathering.
Keeping the momentum of development, Singh announced too that GAICO's "world-class wharf facility" will receive full certification by end of August this year.
The completion of the first phase will see a laydown yard, a one-finger pier, and the wharf front at the Nismes foreshore area. This facility will allow materials and equipment to be offloaded from vessels and stored until they are ready for further transport.
That move was lauded by President Dr. Mohamed Irfaan Ali who said during his address that businesses should be restructuring their thinking to play on the international stage. A key element of that is receiving the requisite certification required for mega-development.
"That is why it is critical that every company understand that operating in this framework is not a choice – operating with this framework is fundamentally imperative for your own growth," he said.
And growth is evident, the President added, when one examines the large expansions and additions to port facilities, especially on the East Bank and West Bank of Guyana.
GAICO's new addition, according to the President, adds "tremendous value" to Guyana's economy and its diversification.
With the Malavi-Hopper Dredge vessel, the President said some GY$40 million would be expended in annual maintenance costs which, in turn, would provide jobs for local Guyanese businesses.
"That is an added value that this one piece of asset brings. So, imagine what happens when more assets are added," the Head of State said.
Currently, Guyana's main channel – the Demerara River is in dire need of continuous dredging to accommodate larger vessels as the country's development trajectory takes off.
With the river dredged, the President said too that it will add to other sectors, such as tourism and agriculture.
The Malavi-Hopper Dredge will be the fourth addition to GAICO's fleet. Another dredge is also expected to be added shortly. The Mesha Dredge is expected to cost around US$2.5 million. GAICO's fleet of vessels also includes Cutter Head Dredges, Hydraulic Cutter Head Dredges, Tugs, Barges, Supply Vessels and Backhoe Dredges.