Guyana leads the way ahead of industry giants the United States of America and Russia in terms of barrels of oil equivalent (boe) petroleum discoveries for the year 2018.
According to a report from Rystad Energy, "2018 stands already as the best year for global oil and gas exploration since 2015. Guyana, Russia and the United States top the list with major discoveries."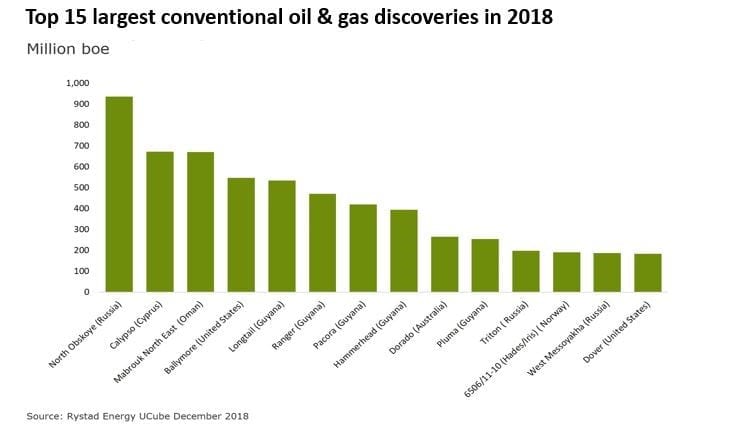 The December 17, 2018 Rystad Energy report said that discovered resources have already surpassed 8.8 billion boe for 2018 and that it expects the number to grow to 9.4 billion boe by year-end.
"We at Rystad expect this discovery trend to continue into 2019 with many promising high-impact wells targeting vast potential," Palzor Shenga, senior analyst on Rystad Energy's Upstream team is quoted as saying.
The report noted that offshore Guyana, ExxonMobil registered its tenth discovery in the prolific Stabroek block, boosting its recoverable resources from the block to about 5 billion barrels of oil equivalent. Production is expected to commence with the Liza Phase 1 at a rate of 120 barrels per day.
The Rystad Energy report said that exploration spending decreased by nearly 61% from 2014 to 2018 but that this is expected to change. "Exploration investments halted their fall in 2018 and are expected to rise in 2019. This not only proves that E&P companies are once again willing to invest in exploration, but also highlights their idea of 'smart investments' to de-risk expenditures as much as possible," Shenga adds.
The report said too that the decrease in overall exploration costs combined with an improved success ratio have led to tremendous improvement in the discovery cost per boe.