In its 2020-2024 Floating Production Systems Outlook Report, Energy Maritime Associates (EMA), analyzed the activity in 2019, recent industry trends and conducted a sentiment survey to develop a forecast for all types of Floating Production Systems including FPSO, FLNG, FSRU, TLP, Spar, Semi, and FSO.
According to EMA's seventh annual sentiment survey, 75% of respondents expected the Floating Production Sector upturn to last at least two more years, with 44% believing it was even more sustainable and could last three years or longer. The market outlook continues to strengthen, making this the fourth year in a row that more than 50% of respondents expressed positive sentiment (somewhat confident to highly confident).
"The ranking of the top seven regions remain unchanged from last year. The Mexican side of the Gulf of Mexico (GoM) remains in third place, closely followed by South America (ex-Brazil), driven by the opportunities in Guyana. Respondents remain optimistic about the US side of the GoM as well, buoyed by greenfield and brownfield deepwater developments," EMA said.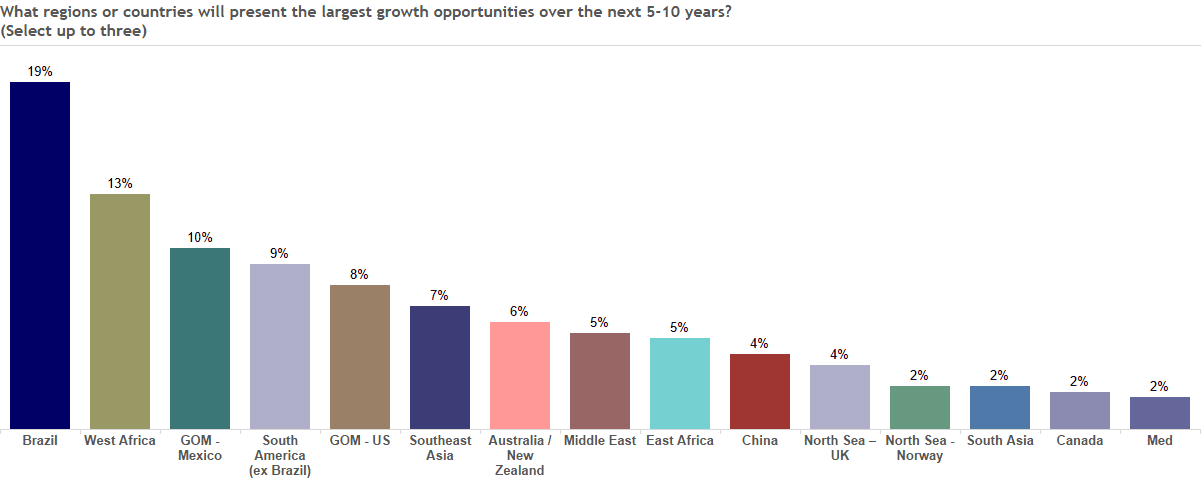 After three years of no major capacity constraints, respondents expressed concerns in five areas: fabrication yards, offshore installation, project management, FEED engineering, and shipyards. This new ranking reflects the growing recovery as the backlog increases and companies that downsized struggle to meet this new demand.
Fabrication yards moved up from fourth position last year as orders resume at experienced yards, all of which had downsized. Similarly, offshore installation was in sixth position last year and moved up as activity has restarted. There was also concern over the lack of experienced personnel, as many have left the sector during the downturn.
Constraints in drilling and subsea remained low, reflecting substantial availability in 2020-2021. These two industries have undergone significant consolidation and although activity has picked up, there is still plenty of uncommitted capacity in the near term.
Nineteen contracts for floating production units were awarded in 2019, including 13 FPSOs, 3 FSRUs, 2 production semis, and 1 MOPU. By comparison, there were 11 FPSO orders last year and only 7 in 2017.
"There are 25 FPSOs currently on order. Two contractors are responsible for almost half of all the backlog: Modec is executing seven projects, while SBM Offshore has five units in progress, including two Fast4Ward hulls ordered on speculation," EMA stated.
SBM Offshore delivered the Liza Destiny FPSO in August 2019 for ExxonMobil's offshore development in Guyana. The hull for a second vessel – the Liza Unity – recently arrived in Singapore for topsides installation. The Liza Unity will be the first floater to be built under the company's Fast4Ward® program. SBM Offshore has also been awarded a FEED contract for a third vessel – the Prosperity – to be used in the Payara development offshore Guyana pending government approvals.