The economic explosion Guyana is expected to experience with coming oil production can see the country's Gross Domestic Product (GDP) skyrocketing by as much as 2000% over the next two decades, according to President of the Georgetown Chamber of Commerce and Industry (GCCI), Deodat Indar.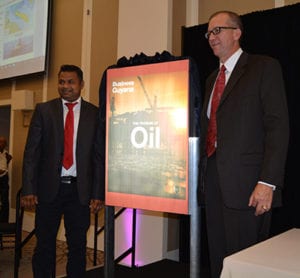 Mr. Indar was speaking at the time at the launch of the 8th Edition of GCCI's Business Guyana Magazine, held on Thursday at the Guyana Marriott Hotel, in the country's capital city, Georgetown.
"Guyana can witness an economic explosion with the Gross Domestic Product growing between 400% to 2000% in the next two decades," he said.
To put this into perspective, Guyana's GDP, as of 2016, stood at 3.4 billion US dollars. An increase of 2000% will see this skyrocketing to 68 billion US dollars. As of 2016, Jamaica's GDP stood at 14.03 billion US dollars, Trinidad and Tobago 20.99 billion US dollars and Panama 55.19 billion US dollars.
GDP is the total value of goods produced and services provided in a country during a year.
The potential increases of 400% to 2000% in GDP for Guyana over the next 2 decades are based on an average oil price of 50 US dollars per barrel calculated on the known reserves, which currently stand between 2.25 and 2.75 billion barrels of recoverable oil. With more potential discoveries being made in the future, these figures can further increase in coming years.
But a high GDP alone does not guarantee prosperity. Venezuela, for instance, as of 2014, according to World Bank figures, had a GDP of 509.968 billion US dollars. Lack of transparency and accountability, bad governance and poor economic policies now see the South American country with, according to OPEC, the biggest proven oil reserves in the world, on the brink of collapse.
Alluding to these realities and the dreaded resource curse, Mr. Indar said, "We also know as seasoned business people that basic management principles dictates a company with a diversified base of products and services are likely to be healthy and sustainable, these same principles applies to running a country."
Guyana must learn from the mistakes of others, he stressed, and recognize that any country that has its economy dependent on one or two sectors will be doomed by it in the long term. "As a living example let's look at what's going on in Venezuela where 95.6% of its economy is dependent on oil which among other things, has fractured its society," he pointed out.
The Guyana government has indicated plans to implement a number of measures and mechanisms to help with the use and management of oil revenue, such as the establishment of a Sovereign Wealth Fund and steps to attain EITI candidacy, in order to boost transparency. However, what is yet to be made public is a comprehensive plan that proposes how oil revenue will be spent, and on which aspect of the economy, such as agriculture, infrastructure, health care, among others.
ExxonMobil has made it clear that Guyana will begin receiving oil revenue from day one of production, and the company's Operations Manager, Doug Mc Gehee, says the US super-major intends to keep searching for more oil. Production is expected to begin mid-2020.
GCCI, Mr. Indar said, will be playing a leading role going forward, in working with government to determine these critical factors, as Guyana seems set for a dramatic economic take-off.