Major offshore discoveries this year include countries as diverse as Russia, Cyprus, South Africa, Malaysia and Guyana. The majority of major discoveries so far this year have been in the offshore sector with over half being deep-water finds, VesselsValue, an online valuation, AIS and market intelligence service for the maritime and offshore sectors, said in a recent report.
This move into deeper water and frontier areas shows a shift in exploration tactics for many major energy companies this year. Operators of the top 10 discoveries, by estimated total reserves (MMBOE – Million Barrels of Oil Equivalent), include Gazprom, ExxonMobil, Total, PTTEP, Eni, Tullow, Shell and CNOOC.
In May of this year Gazprom announced two major gas discoveries on the shelf of the Yamal Peninsula in the Kara Sea, Dinkov and Nyarmeyskoye. These two fields being situated in adjacent Gazprom operated blocks, Rusanovsky and Nyarmeysky respectively. The combined gas reserves of these two discoveries are thought to be in excess of 1.5 billion BOE making this the largest discovery of 2019.
The Cypriot Glaucus discovery in February of this year heralded significant gas reserves in offshore block 10 operated by ExxonMobil in conjunction with Qatar Petroleum. The Glaucus-1 well was drilled on the 17th of February in 4200m of water. Preliminary estimates by the company put the reserves of natural gas to be between 5 to 8 trillion cubic feet (Tcf.). This follows on from the 2018 Calypso discovery by Italian major Eni in neighbouring block 6.
Also, in February Total made the Brulpadda condensate discovery in the Mossel Bay area deep-water offshore South Africa. Current estimates for Brulpadda put total reserves at 558 MMBOE with drilling set to commence in early 2020.
ExxonMobil also had a series of oil discoveries in the Stabroek block offshore Guyana including Yellowtail, Tilapia and Tripletail. Adjacent to the Stabroek block are the Tullow oil discoveries Joe and Jethro in the Orinduik block.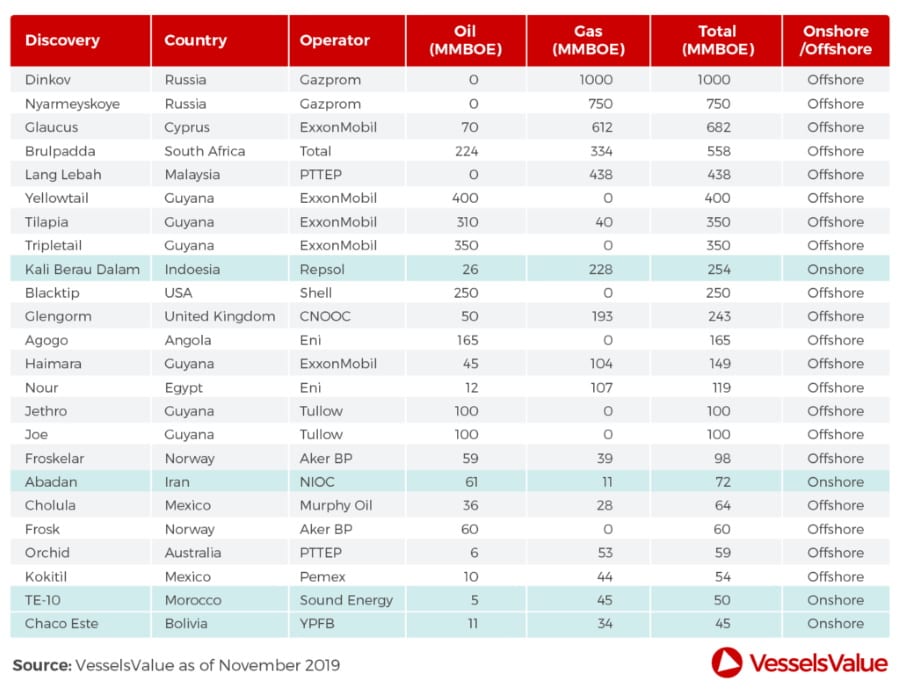 VesselsValue said other major discoveries this year included Lang Lebah (Malaysia), Glengorm (United Kingdom), Froskelar and Frosk (Norway), Blacktip (USA), Agogo (Angola) and Nour (Egypt).
Source: VesselsValue