The South American country of Guyana is on course to receive the highest estimated total income from its multi-billion-barrel oil and gas resources when compared to both Suriname and Trinidad and Tobago (T&T), under various oil price scenarios. This is according to Norway-based energy research and business intelligence company, Rystad Energy.
Sonya Boodoo, Vice President of Upstream Research, examined the impact of production activities in the three countries during her presentation at the recently held Caribbean Virtual Oil and Gas Summit. Under oil price scenarios ranging from $40 to $80 per barrel, Guyana came out on top as receiving the highest revenue from development of its vast discovered resources at the prolific Stabroek Block.
"So starting with Guyana, we see at a $40 per barrel scenario, the income generated from the discovered fields would be around $96 billion dollars and at $60 it would be around $200 billion dollars, and if that increases to $80 per barrel, we see $310 billion dollars being generated to the Government," Boodoo pointed out.
Similarly, in T&T, she said at $40 per barrel, the Caribbean island nation is likely to receive $42 billion dollars, at $60 per barrel, $69 billion dollars and at $80 per barrel, $95 billion dollars from development of its remaining resources.
"This is about a little bit less than half of what we expect from Guyana and this again reflects the maturity of the different regions," she stated. "We have quite big discoveries yet to be developed in Guyana with significant resources, almost double the resources we see remaining in Trinidad, so this correlates well."
Meanwhile in Suriname, where three major offshore discoveries have been made to date, Boodoo said Rystad Energy sees that country receiving much less income due to it being very immature in terms of exploration and production in its upstream sector. "We see them generating much less income to the Government. However, this can obviously be significantly increased if further discoveries are unearthed and developments do take place."
Under the same scenario, Suriname will receive an estimated $15 billion dollars at $40 per barrel, $42 billion dollars at $60 per barrel and $60 billion dollars at $80 per barrel.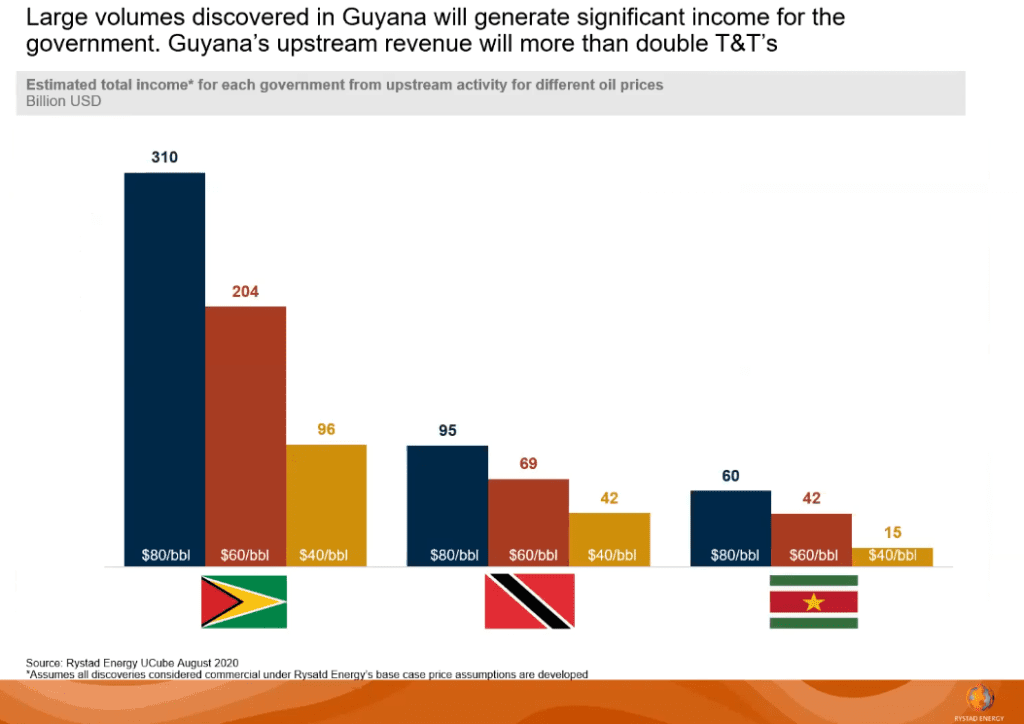 In a subsequent comment to OilNOW, Boodoo said the estimated revenue take for the three countries is based on the current fiscal terms in each territory. "However, it is important to note that this is heavily related to the fact that the resources in Guyana are of a much larger scale than either T&T or Suriname and is not necessarily only a function of the fiscal terms."
For example, she said Guyana has more than twice the estimated recoverable reserves as T&T and almost 6 times as much as Suriname.
The International Monetary Fund has said the oil sector in Guyana is projected to grow rapidly, accounting for around 40 percent of GDP by 2024 and supporting additional fiscal spending annually of 6.5 percent of non-oil GDP on average over the medium term, which will help meet critical social and infrastructure needs.
"Public debt and the external current account deficit are projected to decline steadily following the onset of oil production," the IMF said.
Guyana's estimated recoverable resources currently stand at over 8 billion barrels of oil equivalent and the search for more crude continues at multiple prospects offshore the South American country.