Guyana is already seeing "tremendous interest" in one of the remaining oil blocks to be auctioned next year in what is now known to be a highly prospective basin where over 10 billion barrels of oil equivalent have already been found.
Natural Resources Minister, Vickram Bharrat said one particular company has its eyes on Block C, a concession which stretches 2.3 million acres (9600 Km2). The company is willing to do a 3D seismic study on the block at no cost to Guyana which Mr. Bharrat said would provide extremely valuable data to the new oil producing nation.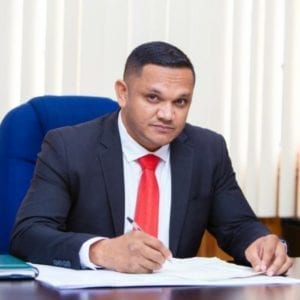 "But this is another discussion the government would probably start next year on how we would deal with it," he told OilNOW. "We have already indicated to the interested company that the government wants this to be an open process, and this principle will go for how we deal with the relinquishment for other blocks too."
Mr. Bharrat continued, "So there is a lot of interest in Block C. They want it. You can tell that they know something…But they aren't the only ones…There are several reputable companies, major oil companies around the world which signaled interest in Block C which is in deepwater and close to Suriname."
OilNOW had reported last month that by the third quarter of 2022, the Guyanese authorities will auction some of the nation's prime oil blocks to international oil companies (IOC). Specifically, Vice President Dr. Bharrat Jagdeo had said that in order to successfully auction off these blocks, the government first has to "aggressively enforce" the relinquishment provisions in the oil contracts. He had also emphasized the need for certain policy decisions to be made. He said these relate to the importance of identifying the model of auctioning and the significance of a robust legal framework to guide this process.
As it relates to the method identified for auctioning, the VP pitched the practice of Suriname — a country that conducts its own 3D seismic surveys and auctions the blocks based on the data gathered. This data gives the government the power and benefit of demanding higher bidding prices from interested companies.
Suriname leading offshore bid rounds since 2016, Guyana set to excite in 2022 – Norway group
Whether Guyanese authorities preclude current oil block holders from being a part of the bidding process, is another matter for discussion the VP had said. Dr. Jagdeo noted nonetheless that the requisite mechanisms will be in place to ensure Guyana has a transparent auction next year.