Between continued exploration success within the Guyana-Suriname basin, increasing M&A activity in the Brazilian offshore space and record production out of the Vaca Muerta in Argentina, consultancy group Rystad Energy said the Latin America region continues to display its importance in the global energy mix.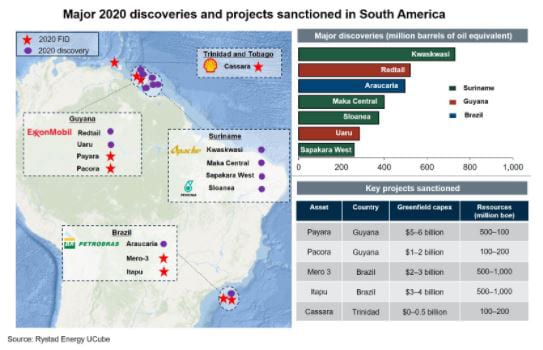 "South America kept up the momentum from 2019 through last year's market turbulence and topped the global ranking for exploration success for a second year running," Rystad Energy said. "The region delivered more than 3 billion barrels of oil equivalent discovered in Guyana, Suriname and Brazil during the year."
U.S. oil major ExxonMobil made three discoveries in Guyana last year – Uaru, Yellowtail-2 and Redtail.
The Uaru-1 well was drilled in a new reservoir, encountering approximately 94 feet (29 meters) of high-quality oil-bearing sandstone reservoir, and was drilled in 6,342 feet (1,933 meters) of water. The Yellowtail-2 well encountered 69 feet (21 meters) of net pay in a newly identified, high-quality oil-bearing reservoirs among the original Yellowtail-1 discovery intervals. The Redtail-1 well encountered approximately 232 feet (70 meters) of high-quality oil-bearing sandstone and was drilled in 6,164 feet (1,878 meters) of water.
Rystad Energy said the region also led sanctioning activity in 2020, contributing about 30% of the total sanctioned investments as projects in Brazil and Guyana were greenlighted.
"Three of the five FPSO projects sanctioned globally were in South America, reinforcing the region's emergence as an FPSO hub," Rystad Energy said.
ExxonMobil sanctioned the giant Payara Development, making it the third project to be greenlighted so far in Guyana. The 220,000 barrels per day Prosperity FPSO is under construction for this development which is set to start up in 2024.