The Presidents of Guyana and Suriname, Dr. Mohamed Irfaan Ali and Chandrikapersad Santokhi, have discussed at length, ways in which the two countries can unify their economic spaces.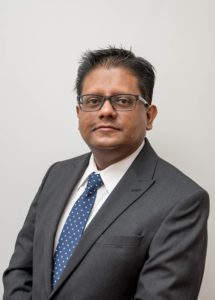 So said senior minister in the Office of the President with responsibility for finance in Guyana, Dr. Ashni Singh, on Thursday, during the launch ceremony for the flagship store of a Surinamese company, Optiek Ninon, in Georgetown.
The two governments have engaged in a series of discussions since Santokhi and a delegation came to Guyana on Tuesday for an official visit.
Dr. Singh and Suriname's Minister of Foreign Affairs, Albert Ramdin, both spoke of the need to unify the two economic spaces for the benefit of the private sector and pointed to Optiek's expansion into Guyana as an indication of what is possible.
Businesses native to Guyana and Suriname, the finance minister opined, should feel free to roam between the two countries.
Dr. Singh said currently, movement by boat is so convenient that an entrepreneur can run a business all week in Guyana and go home to Suriname for the weekends, and vice versa.
While inter-country travel can currently be done by boat and plane, Guyana and Suriname intend to build a bridge over the Corentyne River. A communique from Guyana's Office of the President on Thursday said the bridge would improve interconnectivity, remove obstacles to increased trade, grow the tourism sector, and remove impediments to the movement of people, goods, and services between the countries.
President Dr. Irfaan Ali also told journalists during a joint press conference with President Santokhi on Thursday that they discussed working together to remove barriers to doing business.
"There are many initiatives that would lead to immediate medium-term benefits and significant long-term benefits," Ali said.
The governments also organized a meeting with private sector leaders from their respective countries to discuss measures. As for President Santokhi, he told journalists that this is the first-time members of the private sector were part of the presidential delegation. He said this was because of the recognition they had as leaders that the private sector should play a pivotal role in the development of the economies of both nations.
The two countries made a series of business-related agreements during the visit, including two memoranda of understanding to collaborate on health and agriculture, and a shared intention to jointly strategize on the development of their oil and gas resources.