The Guyana Shore Base Inc. (GYSBI) – the South American nation's premiere shore base facility secured an 11-year extension contract to see it giving continued service to ExxonMobil's Guyana affiliate, Esso Exploration and Production Guyana Limited (EEPGL).
GYSBI's new contract will run up to 2033, building on the existing contract that was awarded back in 2017. Within that timeframe, GYSBI said it directedly invested some US$300M in port infrastructure and real estate development, warehousing, and support services.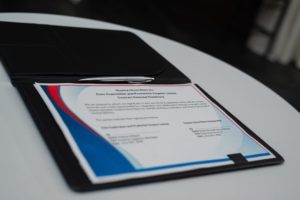 And this, according to GYSBI'S Executive Director, Robin Muneshwer, led to the creation of a world-class facility that meets the specialised needs of Guyana's oil and gas industry.
GYSBI joins forces with Houston logistics provider to service Guyana's booming oil sector | OilNOW
GYSBI, he added, started out with eight acres, two berths and one warehouse but at present, it boasts 170 acres, eight warehouses and four berths, with further expansions planned.
 "What we have developed at GYSBI is something we are extremely proud of. Our safety record is unparalleled, we have just celebrated two years [Loss Time Injury] LTI free. Our operational record is excellent, so it was not handed to us. We have earned it. ExxonMobil has shown a lot of trust and faith in us and worked with us," Muneshwar outlined.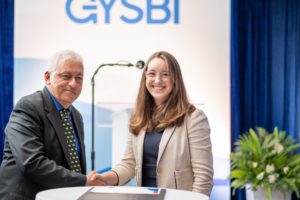 ExxonMobil Guyana's Logistics Manager, Hayley Gilbert, shared that GYSBI continues to offer comprehensive services crucial to the company's day-to-day operation and remains critical as it advances its plans to develop Guyana's oil and gas resources.
Guyana's largest shore base seeking vendors to expand local capacity | OilNOW
 "The signing of a decade-plus agreement shows the long-term commitment between these two business partners. As the demand for support services has grown, it was clear that the expansion was necessary and GYSBI has responded to grow the multi-user facility that we see today, supporting the specialised needs of the oil and gas sector here in Guyana," Gilbert stated.
Guyana's Minister of Natural Resources, Vickram Bharrat also commented on the signing, citing that GYSBI has become a prime example of what is possible for Guyanese businesses in the country's relatively new oil and gas sector.
Further, Minister Bharrat noted that with a projection of nearly 11 billion barrels of recoverable resources thus far and further drilling activities taking place, the government remains optimistic about more discoveries, which translates to a need for more local enterprises like GYSBI.
GYSBI said that it has recruited, trained, and certified more than 1,000 Guyanese for key operational positions within the industry and beyond, through its affiliates. It also said it has catalysed more than US$500 million in investments in the Houston/ McDoom, East Bank Demerara corridor by providing the enabling infrastructure and establishing the first oil and gas activity hub in Guyana, and creating direct and indirect employment for more than 2,000 persons.