Although Guyana's Local Content legislation prioritises the use of locals across 40 categories of work such as rentals, security, transportation, and catering, it still does not block the participation of foreign entities. It is this intelligent craftsmanship of the law that creates win-win scenarios for all players, says economist and finance specialist, Richard Rambarran.
In a recent radio interview, Rambarran said the law is clearly demonstrative of the fact that the government has been very grounded in the realities of local content.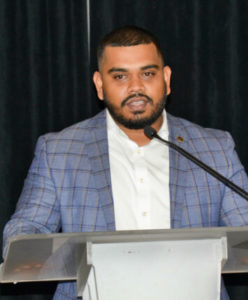 "If you get local content wrong, you can have negative impacts on the economy, chase foreign investors away and slow down growth. Our Local Content law has been crafted in such an intelligent way that it provides a win-win under all conditions, and this is especially as it relates to foreign investment," the economist pointed out.
He added that the definition of what constitutes a local company is proof of this.
"If you look at the definition of a Guyanese company, aside from the labour requirement element, but from an ownership standpoint, 51% has to be owned by Guyanese but 49% is still open to non-Guyanese," Rambarran noted.
Guyana institutes mandatory 45-day payment period, amid complaints of long wait | OilNOW
He argued that the conditions of the First Schedule which require Guyanese companies to be prioritised in 40 areas of work still keep foreigners in play. As the Executive Director of the Georgetown Chamber of Commerce and Industry (GCCI), Rambarran said he often explains this to investors, thereby assuaging fears and clearing up misunderstandings.
He said too that one ought not to forget that there are over 180 areas of work in the sector but the law only ringfences 40. And that therefore, the extent of play for foreign entities is clearly still significant.
The economist said this type of messaging needs to be taken far and wide so that all players can truly understand that the law strikes a perfect balance for all stakeholders to benefit.