Over 1,000 eager Guyanese turned out to the Guyana Shore Base Inc. (GYSBI) Career Fair at the West Demerara Secondary School on July 9, with the company managing to hire several on the spot.
Vacant positions ranged from Excavator Operators, Human Resources Officer, Dispatcher, Banksmen, QHSSE Officers, QA/QC Field Inspector, Technical Administration Assistants, Cleaners, and Operations Assistants – all to support the ongoing Gas-to-Energy project.
Those hired immediately possessed the requisite requirements, said Lilowtie Chintamani, GYSBI's Human Resource Manager.
"It was indeed a shock to me to come out here and see so many people. We said we would interview persons and look at their documents, and then call them. But for all those persons who had all their relevant documentations, we hired them on the spot, especially those we would like to start working on Phase 1 of the project," she said. "There were some technical spots, like excavator operators/heavy duty operators. Persons walked with all their certificates and other documentation that were required. So, we hired them."
All you need to know about Guyana's Gas-to-Energy project (Updated) | OilNOW
And considering that the project is located on the West Bank of Demerara, the company thought it fit to draw from that pool. But the event still saw persons from Regions 4, 5, 6 and 10 participating.
"It would be easier for us to hire persons from over here because of the timings for this project," Chintamani explained. "I must say that when I talked about our shift system of work for this project, people did not react the way they used to, a year or two years ago. In previous times, when you tell persons about shift work, they would usually turn it down, but most of the people who came out here were open and willing to work the shifts, which are from six in the morning. From an HR perspective, we are very pleased."
Atleast 95% of the attendees were young Guyanese.
Eighteen-year-old Dominic Bess was one of the lucky persons hired on the spot. "The interview today was great for me. The staff were really professional. I was hired on spot, and they said they would call me within a week. So, I am just looking forward to starting at GYSBI. I think it is a great company and I am excited to start," Bess related.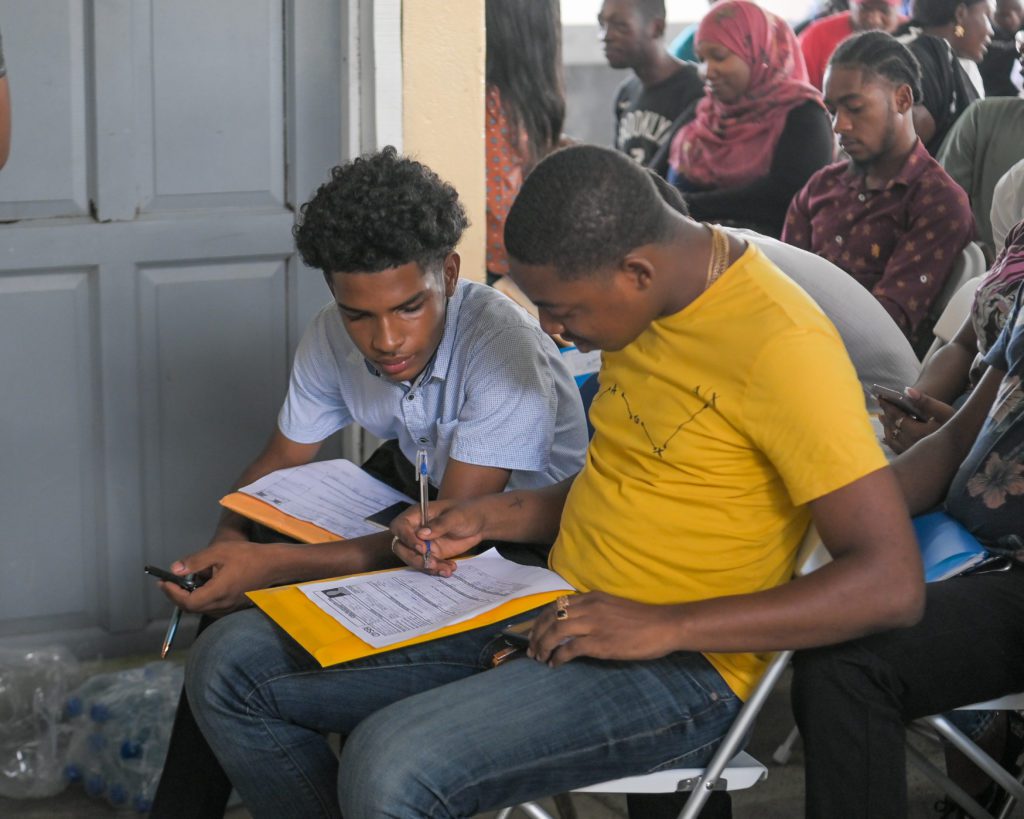 Tenisha Bandhu, a 22-year-old who was also hired on the spot, noted that she is grateful for the opportunity as it will not only assist her financially but will also provide much-needed job experience.
"I must say that I was hired on the spot for the position of Technical Admin and the position and salary are way better than what I am currently earning. This is a really good opportunity for me because I was looking for betterment and I am studying to go into the oil and gas sector. This job will also help me to get the experience I need to aid in my studies. I am just really overwhelmed by this opportunity," she noted.
GYSBI currently serves as the main shore base and onshore logistics hub for the oil and gas industry in Guyana. It is a Guyanese company and one of the leaders in local content development. More than 95% of its workforce are Guyanese citizens.