A Guyanese businessman is looking to transform a section of an abandoned cane field into a multi-million-dollar infrastructure targeting the needs of the oil and gas industry. W1 Houston Inc. is working towards the establishment of a storage facility that is expected to bear a price tag of some GY$115 million.
The facility will be developed by former head of the Guyana Office for Investment (GO-Invest) Owen Verwey. This was disclosed when he submitted the project summary for the construction of a Laydown / Outdoor Storage Yard for Non-Hazardous Materials at Houston, Greater Georgetown to the Environmental Protection Agency (EPA). The Agency has since determined that the project does not require an Environmental Impact Assessment (EIA).
According to the project summary seen by OilNOW, the facility is being constructed for the purpose of storing imported equipment, parts and tools which will be transferred to the offshore oil and gas operations. Located at Block W1, Houston, Greater Georgetown, the land that is to be developed is part of an abandoned cane field that is opposite the Gafoors Complex.
"The proposed land use will see most of the land as open space except for work accommodation structure, two 40 feet container offices and security huts," the document stated. It was also noted that the project involves an investment of over GY$115 million to prepare the site for operations and will employ between 3 to 12 employees during this phase. This will include Health Safety and Environmental (HSE) personnel, lifting equipment operators, labourers, security, and administrative staff.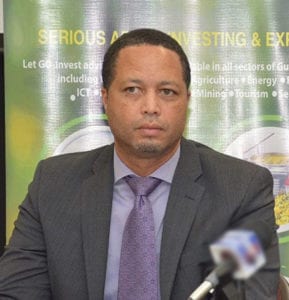 Speaking to OilNOW, Verwey explained that it was the emerging opportunities and demands of the petroleum sector that led him to pursue the development. "The opportunity that I saw was a bit of the specific need for storage, and generally the wide range of opportunities in this expanding sector," he stated. Added to that, the businessman said, "We have the benefit of being in very close proximity to the existing Guyana Shore Base Inc. (GYSBI) and its Annex facilities, and close proximity to other port facilities currently been used in Georgetown."
The developer said that preparation of the land should take approximately 14 days and the operations should last no less than 5 years.
In a recently published notice, the EPA stated that the project summary received an EIA Screening Score of 526 points which is below the threshold required for an EIA, which is 872.