In what is being described as a significant milestone in the development of the local supply chain, Italian oilfield service company Saipem has utilized a Guyanese workforce for the assembly, testing, coating, and loading of massive subsea jumpers for the second phase of ExxonMobil's Liza development.
The subsea jumpers will be used to transport production fluids between subsea components and is part of the equipment being installed for Liza Phase 2, set to come on stream in 2022.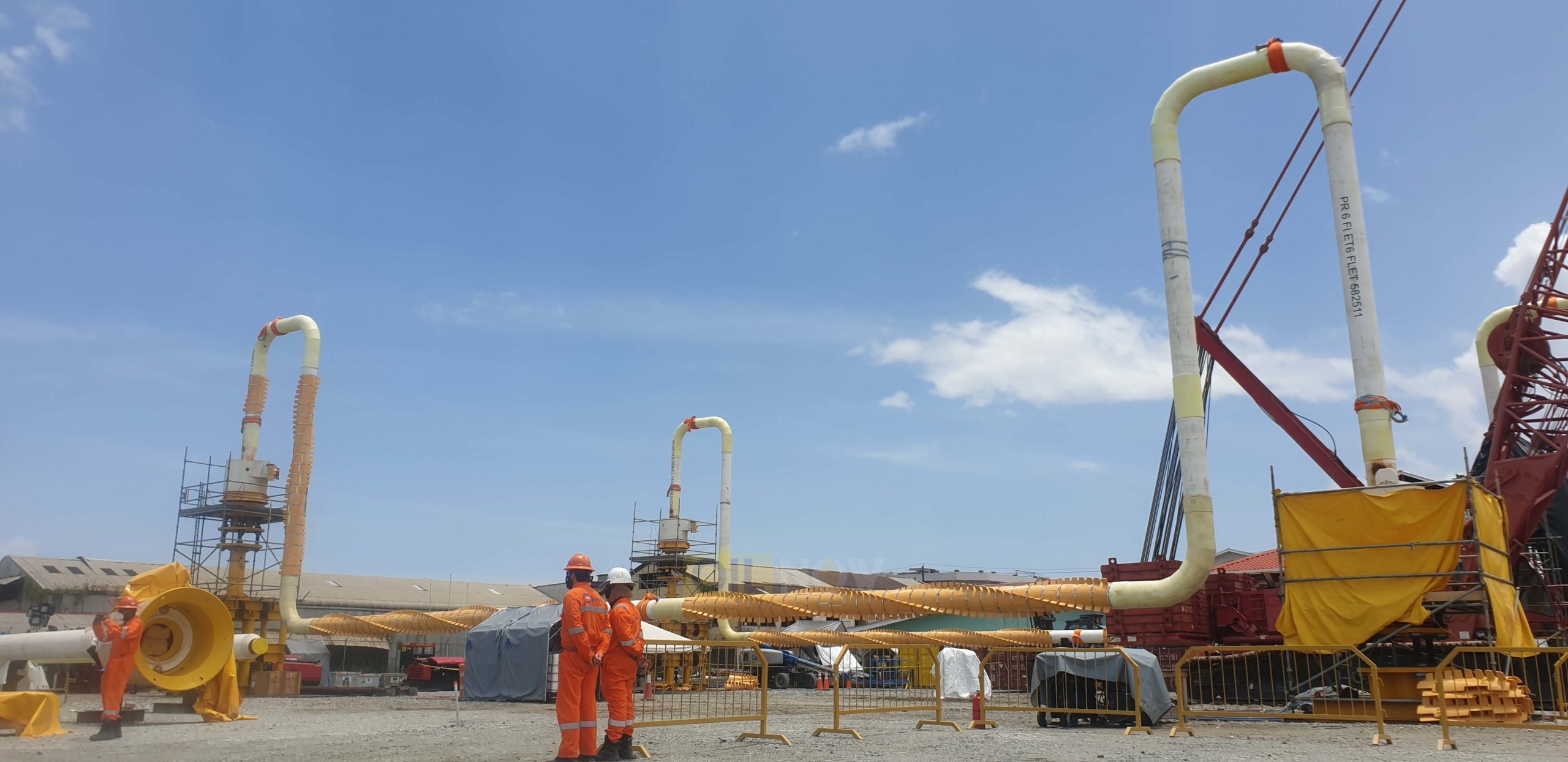 "This is a symbol of the progress being made in developing the supply chain in Guyana to support the offshore development of Guyana's natural resource," Alistair Routledge, President of ExxonMobil Guyana told OilNOW during a recent interview at the Saipem Offshore Construction Facility located in the country's capital, Georgetown.
"Truly, this is a significant milestone in local content development," Routledge added.
Local fabrication company Guyana Oil and Gas Support Services Inc. (GOGSSI) provided the workforce for the project. Speaking to OilNOW, Director, Nicholas Deygoo-Boyer said the team consisted of 16 persons carrying out a series of tasks.
"We have 16 resources. 4 fitters/fabricators, 4 scaffolders, 1 blaster, 2 painters, 1 man lift operator, 2 welders as welder helpers and 2 riggers," he said.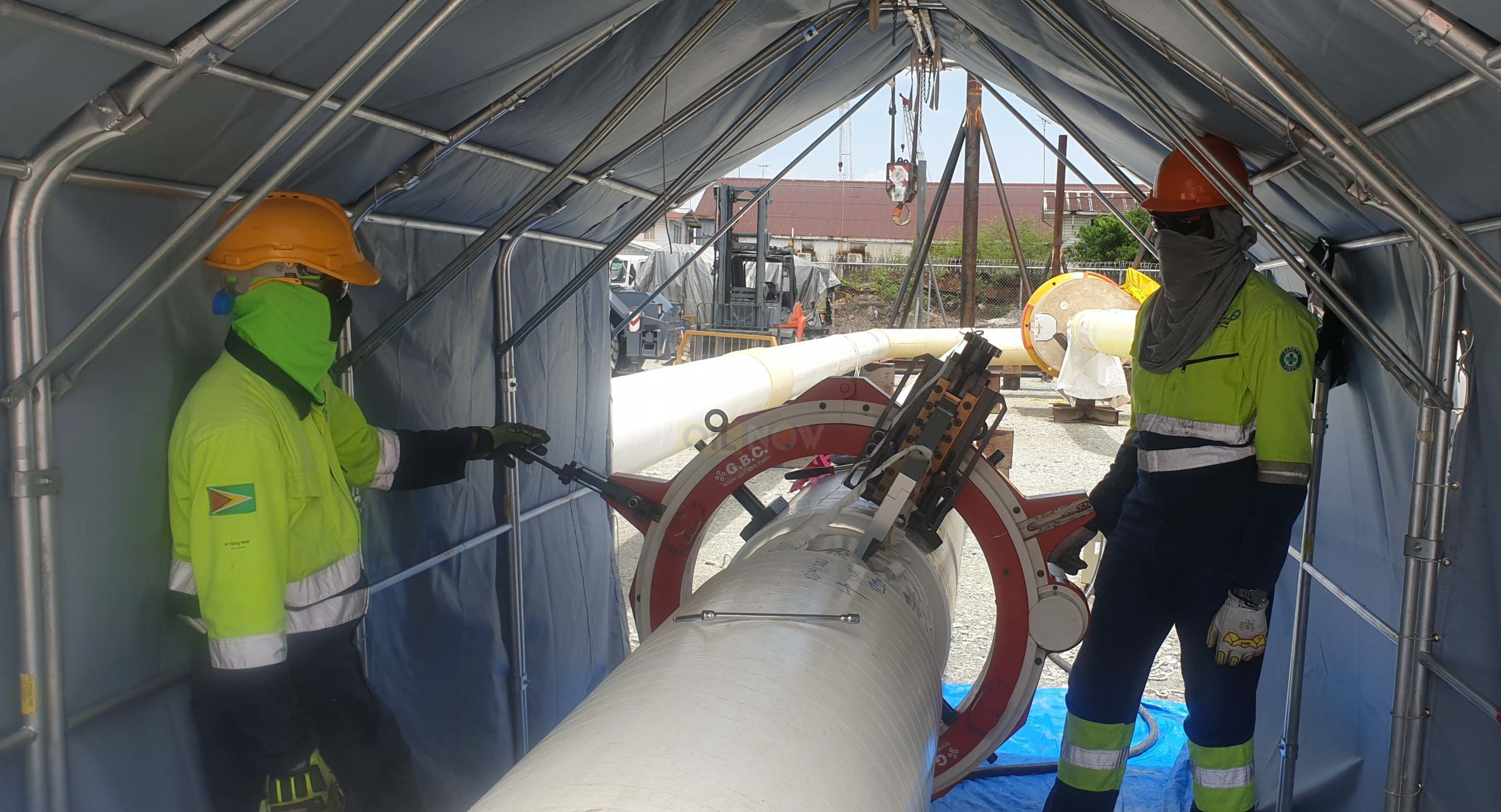 Deygoo-Boyer explained that the job included erecting scaffolding to level jumper kits, beveling pipe ends and fitting spools together, welding and testing spools, blasting of welded area and application of coating to the welded area, followed by rigging up and loading out the jumpers.
GOGSSI is one of two local companies providing fabrication services for the Prosperity FPSO, being constructed by SBM Offshore for the Payara Development offshore Guyana.
The Saipem Offshore Construction Facility was officially commissioned in June and is expected to play a major role in the development of local capacity. Saipem Guyana Country Manager, Thuranthiran Nadarajah, said the utilization of a local workforce for the project is an indication that Guyana has the capacity to execute key work required for the offshore operations.
"This is the start of a massive fabrication industry in Guyana," Nadarajah said. "This shows Guyana can build its own structure for this own field with the guidance by Saipem."
Guyana has gone from having no oil and gas industry just 6 years ago prior to the world class Liza discovery in 2015, to becoming an oil producer, with preparations for a massive ramp up in output as multiple projects come on stream.
Routeldge said the sequencing of the offshore developments is playing a role in preparing local companies to build capacity and position themselves for the growing opportunities.
"The ability to look out at a number of projects enables companies and investors to invest to build the infrastructure, to hire and train people, so that the work can be done here. Because its not just one project. It's sequenced. So, they know that they are going to get the payback from the investment," he explained.
Billions being spent with Guyanese suppliers even as stakeholders continue push for local content legislation
Routledge said the real benefit to the South American country is that the infrastructure and additional capacity and workforce will be there for other purposes when the projects are finished building offshore.
In addition to the Liza Phase 2 Development, a third project at Payara is expected to come on stream in 2024 and a fourth at Yellowtail is pending government approval. Exxon has said it expects around 10 FPSOs will be online in coming years to develop the more than 9 billion barrels of oil equivalent discovered so far at the Stabroek Block.