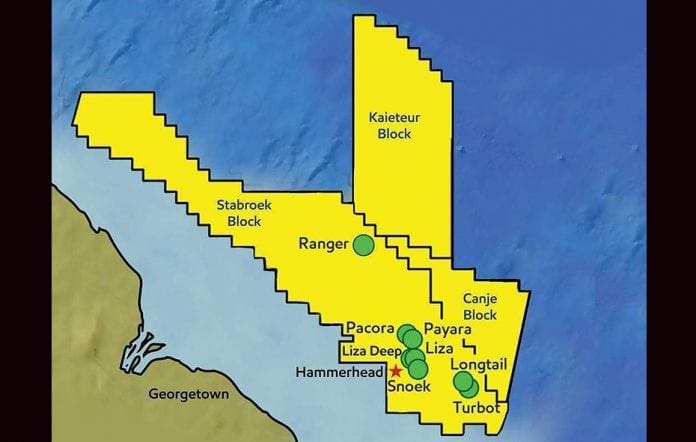 The Hammerhead-1 well, where approximately 197 feet (60 meters) of high-quality, oil-bearing sandstone reservoir was encountered by the Stena Carron drillship in August offshore Guyana is the 'thickest single sand package' drilled on the Stabroek Block, according to President and Chief Operating Officer of Hess Corporation, Gregory P. Hill.
Hess has a 30 percent stake in the Stabroek Block where ExxonMobil affiliate Esso Exploration and Production Guyana Ltd. is operator with 45 percent interest and CNOOC Nexen has 25 percent.
Speaking on a 3rd quarter earnings call on Wednesday, Hill said Hammerhead is a massive accumulation and very thick sand package. "In fact, it's the thickest single sand package that we drilled on the block. It's a very large structure so it's going to require some additional appraisal. What we can say is that the results of the DST were good, meaning that the reservoir quality is excellent and the reservoir seems to be well-connected."
He was at the time responding to a question from Doug Leggate – Bank of America Merrill Lynch, who queried about the company's plans to potentially fast-track Hammerhead to development stage. Leggate also wanted to confirm that the Hammerhead discovery was an addition to the already estimated volume of more than 4 billion barrels of recoverable oil found on the block.
"You're right to say that Hammerhead's accretive to the 4 billion barrels and it could jump the queue in terms of being ahead of some of the other phases that were on the Turbot cluster, but it's too early to say that because we need some additional appraisal before we make that final decision. But, again, it is accretive to the 4 billion barrels," Hill said in response.
Hammerhead-1, which accounted for ExxonMobil's 9th discovery in Guyana, was safely drilled to 13,862 feet (4,225 meters) depth in 3,373 feet (1,150 meters) of water.