Texas-based Welligence Energy Analytics has projected that Hess' forest credits deal with the Guyana government, will buy up more carbon dioxide equivalents (CO2e) than is estimated to be emitted from the Stabroek Block in the same period (2022-2032).
The planned purchase by Hess of 37.5 million credits amounts to 37.5 million tonnes of carbon dioxide equivalents (MMtCO2e). This is more than the 9MMtCO2e Welligence estimates will be Hess' net emissions from Stabroek Block operations. In fact, they estimated that even the total Stabroek Block emissions for the same period, approximately 30MMtCO2e, will be less than the CO2e Hess has committed to buying.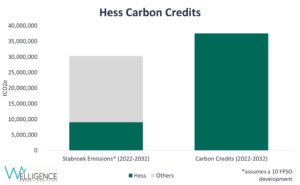 Welligence said Hess has opened the door for its stake in the Stabroek Block offshore Guyana to be considered carbon neutral. Welligence's emissions projection is based on assumptions informed by the vision of the Stabroek Block consortium to place 10 floating production, storage and offloading (FPSO) vessels offshore Guyana by the end of the decade.
Governments, corporations, and large emitters make up the primary target market for Guyana's forest carbon business. By making such a purchase, an entity is credited with the conservation of forests and the sequestration of the volume of carbon that those forests provide.
Hess signed a deal with Guyana, valued at least US$750 million. The purchase will amount to three times the payments Guyana received from the Norway partnership which formed the springboard for Guyana's efforts in this line of business.
Guyana is a trailblazer in this line of business, being the first country in the world to be issued jurisdictional carbon credits from Architecture for REDD+ Transactions. ART announced Thursday that it validated and issued 33.47 million of Guyana's credits, applicable to the period 2016-2020, on its register.