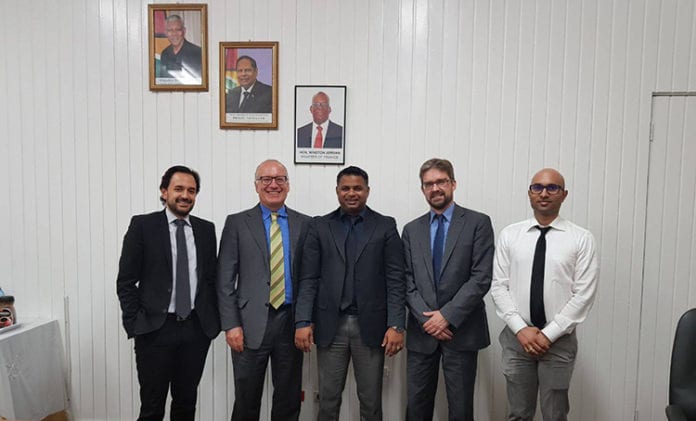 Guyana is continuing to receive support from international organizations in the development of policies to successfully manage the emerging Oil and Gas sector, with the recent assistance coming from the International Monetary Fund.
The IMF has been in the South American country for the past two weeks and is working along with the Government of Guyana to develop a Fiscal Responsibility Framework.
The team's visit was announced by the country's Minister of State, Joseph Harmon, during a Post Cabinet news conference on Thursday.
"The mission leader of the team informed cabinet that Guyana had become eligible for assistance from the IMF under a donor funded trust fund and explained that the team will make a scoping assessment of Government's policy direction and meet with the persons and agencies that will be involved in managing revenues from the oil and gas sector," he told the media.
It was explained that the framework is intended to protect the country from the temptation of spending without control.
The team also met with members of Guyana's private sector at the Ministry of Finance. President of the Georgetown Chamber of Commerce and Industry, Deodat Indar, told OilNOW on Friday that some of the matters discussed in the 1-hour long meeting include the economy, sectoral performances, taxation regime, Value-Added Tax, agriculture, mining, quality infrastructure, local content policy, and oil and gas.
Meanwhile, Minister of Finance, Winston Jordan, when contacted on the IMF's visit, said, "There are huge demands and huge pressures that you would come under when developing the oil and gas sector and before you know it your deficits starts widening so fiscal responsibility framework is where we are seeking to develop a set of rules for guiding spending in the economy."
He added that the development of the framework is just but one aspect of the management of the oil resources as it is imperative for the Government to formulate laws that can support the implementation of policies under this arrangement. "Fiscal Responsibility Framework, you can develop it but it needs to be enshrined in law and those laws need to be enforced and followed if all of that is done then the Public can expect a better managed economy that is sustainable in terms of the incomes and the expenditure and growth that will flow."
He also noted that it is easy for Government's to fall prey to the habit of exorbitant and unnecessary spending when monies are being injected into the country, especially from the Oil and Gas sector.
However, Jordan said this is a habit that the Government is mindful of and is doing all it can to ensure that the administration is not a victim of such a practice.
It is for this reason that the Fiscal Responsibility Framework will outline the mechanisms that must be followed when projects are being implemented using resources from the oil and gas sector.