ExxonMobil Country Manager in Guyana, Rod Henson, says collaborating with Iwokrama International Centre is in keeping with the company's core value of science and protecting the environment.
Henson was at the time speaking to a number of persons gathered on Wednesday evening at the Pegasus Hotel in Georgetown, Guyana, to witness the relaunching of Iwokrama's Science Programme. Exxon is supporting this initiative with the grant of US$300,000 GYS$62M).
"For ExxonMobil we felt this would fit extremely well because it highlights two factors that are inherent in the core of our company and that is science and protecting the environment," he said.
The Country Manager said Exxon serves a vital role in providing energy to a growing world that desperately needs this resource, and in so doing, helps to improve people's quality of life. This, he stated, goes hand-in-hand with protecting the environment and developing resources in a responsible way. "How we do it is through science. We are absolutely a science-driven company. In a boundary condition for everything that we do, is protecting the environment. So we felt that this initiative really dovetails very well into our strategies and values as a company," he pointed out.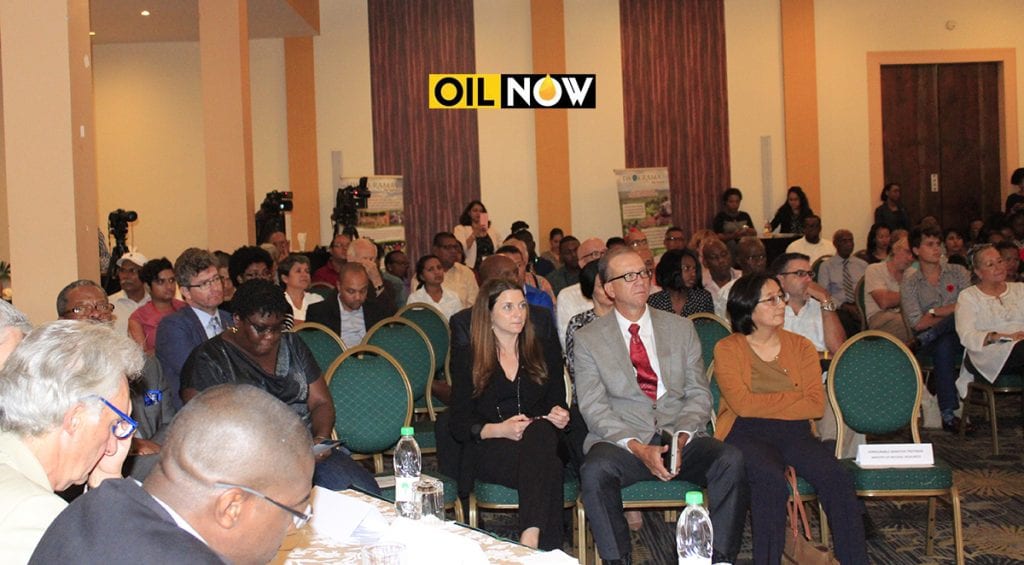 Outlining Iwokrama's role in the green development, Andrew Mitchell, Founder Director, Global Canopy Programme, said pristine rainforest such as that which is found in Guyana, plays a critical role in global climate conditions. He said the ultimate objective is working towards ensuring the planet gets into equilibrium. "If you think about it, in our lives, it is not just about carbon; it's about water, it's about forest, it's about the food we eat," he said.
Mitchell stressed that the responsibility for protecting the planet begins at an individual level and the younger generation will be playing a critical role in this regard. "It's not about blaming all the companies that supply with these things, it begins with us. We have to make the decisions, but we also have to rely on our political leaders to do the same…," he said.
The initial contribution from ExxonMobil will support the establishment of the Iwokrama Science Committee and commission initial research, based on the advice of the Committee, to inform a more comprehensive program on biodiversity. Funding will also enhance local capacity, including staffing and limited facility improvements.
With this partnership between the two organisations to re-establish the internationally prestigious Science Programme, the intention will be to action key scientific research, within the 371,000 hectares Iwokrama rainforest.